MIKEY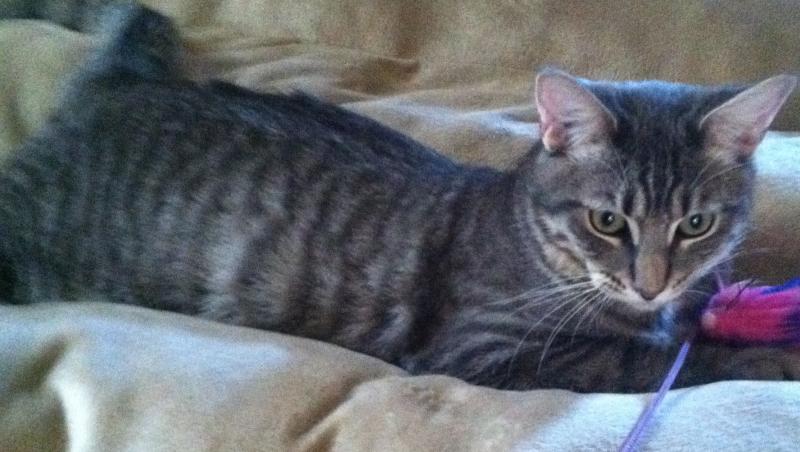 Male
Domestic Short Hair
Grey/Silver Mackerel Tabby
MIKEY is not in the care of The Cat House on the Kings and we cannot vouch for his personality or health status. Please call (559) 978-8676 with questions; do not contact The Cat House on the Kings about MIKEY!
Mikey is a 6 month old neutered male, with a very sweet nature. He has a gentle disposition and is used to being brushed, nail clipped and ears cleaned. He loves to play with Laser Tag and interactive cat toys. Mikey is shy, but will warm up quickly; he melts in you arms when being held.
Mikey is one of a 4 kitten litter that a stray Mama kitty gave birth to in our garage. He was raised indoors with his family and has been human handled since the age of three weeks. We already have 8 rescued cats of our own, and are seeking a forever home for Mikey.
Ideal home for Mikey would be a cat loving environment with people who will love and play with him frequently. I believe kids 5 years and older would be OK with him. He does not scratch or bite, but wants to be handled gently. Mike has been well socialized with other cats and a cat-friendly Australian Shepard. Indoors environment preferred with some outside time in a safe yard.
Mikey is a healthy, loving kitten ready to be re-homed. He has been neutered and had his 1st year shots. He tested negative for FIV/Feline Leukemia. He loves to be groomed and tolerates nail clipping and baths. Kitten comes with shot record and neuter certificate.