Stumpy passed away 2/16/2016. RIP.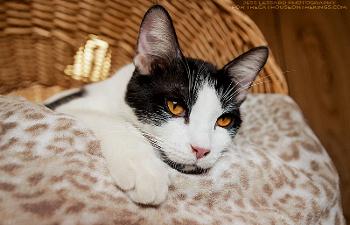 Our handsome cat has been given the affectionate name of Stumpy after suffering an accident. He was hit by car and just left on the side of the road without any remorse from the person who caused this. Luckily for Stumpy a kind-hearted person picked him up and took him to the vet for medical attention. After further examination from the vet and an x-ray he learned he had an injury with his tail that needed surgery. That's when The Cat House stepped in and was able to help Stumpy. Unfortunately his tail could not be saved and had to be amputated. He had a long road to recovery, but he's all better now. Stumpy is super affectionate and very lovable. He truly enjoys being people and cats. He's a purr box who would enjoy being part of your family.
Stumpy is completely fine and comfortable with dogs, by the way :)
Don't forget to check out his video.