Daisy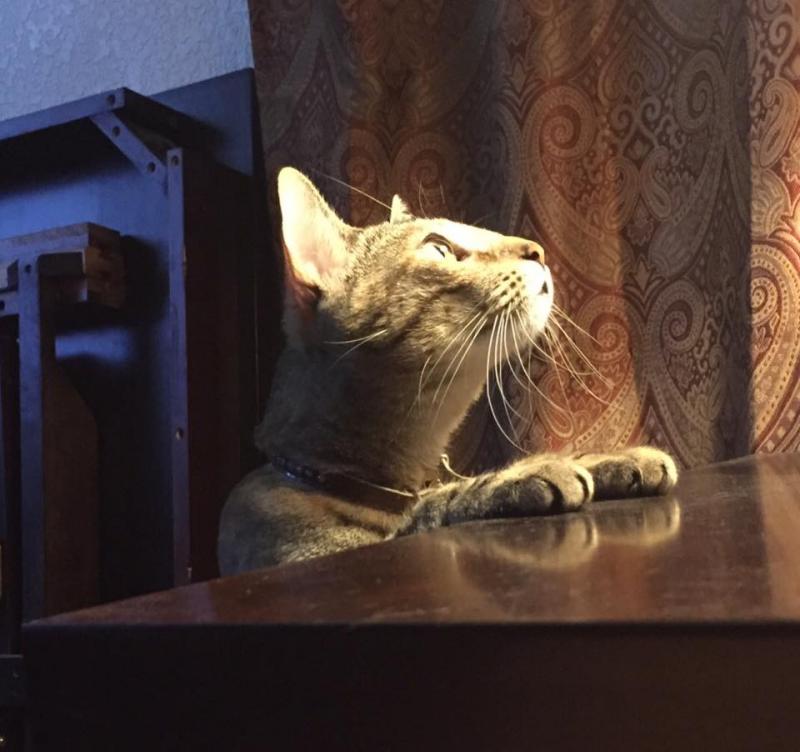 Female
Torbie
Brown/Grey/Orange Stripes&Spots
Daisy is not in the care of The Cat House on the Kings and we cannot vouch for her personality or health status. Please call (626) 807-3920 with questions; do not contact The Cat House on the Kings about Daisy!
Daisy is sweet, playful, and just a little bit shy. Though she is wary of strangers she is very loyal and affectionate with her care-givers. She loves lots of play, and wants to be near you and keep you company in whatever room you're in. Her favorite hobby is watching people and birds through windows or on TV. Her favorite toys are laser pointers, string "dangle" toys, and toy mice. She also loves climbing up on a bed or sofa for snuggles, and will often seek out "petting time" with someone she loves.
It was the middle of a hot summer day when a stray cat, who had given birth in a local Fresno park, was attempting to carry her precious newly born cargo across a busy street. A park worker later commented; "The park has been busy since kids are out of school, and she was probably trying to move the kittens to a quieter location". Unfortunatley the poor cat was rendered a bad blow by a passing car. She dropped the kitten she had been carrying in the middle of the road, and staggered into some nearby bushes. Onlookers who saw the incident made attempts to rescue the animals. The kitten was successfully retreived, but by the time park workers had located the mother she had already succomed to a fatal head injury, and was beyond revival. Park workers also teamed up to search for the hidden "kitten nest", but with the park being a whopping 235 acres the remaining kittens were never located. It is presumed that only the one survived, but the fight was not yet over for the newly orphaned animal, who had suffered severe trauma and was under-weight, malnourished, and riddled with fleas.
Named "Daisy" after the most common of the parks flowers, the tiny kitten had to be bottle fed by caregivers, and given medical treatment over a series of months, but gradually made a full recovery. Now, two years later Daisy has developed into a beautiful, healthy, well-adjusted indoor cat, who is ready to find a loving "Forever Home".
Daisy is looking for a loving "singe pet" home, as she becomes very timid around other animals. She loves human companionship, but does not enjoy a lot of handling and petting unless she has initiated it. For this reason she would not be a good fit for families with small children, but is an ideal pet for retired adults, and could also be kept by families with children 8yrs+.
She is very well behaved when left alone during daytime hours when owners are at work. An ideal owner should be a patient, animal loving person, who has some prior experience with cats.
Daisy has been cared for as an indoor only cat, but could become and indoor-outdoor cat with some training by a patient handler.
Daisy is clean of all diseases, and has no fleas or parasites. She is neutered, up to date on vaccines, micro-chipped, and litter box trained. Prospective owners may request medical history, and future owners will be provided with her complete medical file, including a certificate of rabies vaccination.
It is our top priority to find Daisy a happy home, so if things don't work out you may return her to us, and we will continue our search for the right match.
She cant wait to meet you, and hopes you will give her her forever home!