Our annual Open House is a fun event for our supporters to see first hand the work we do, meet our staff & volunteers and, of course, the cats!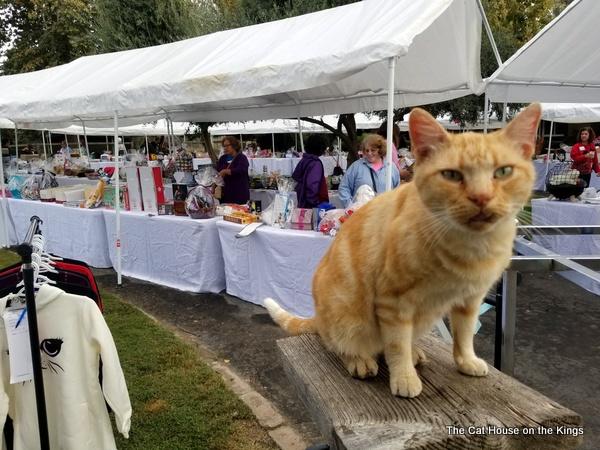 What
Vendor Fair
Food trucks
Music
Tours
Raffle
Silent Auction
Photo Booth
Cat Adoptions
Many, many cats to pet!
When
Saturday, May 6th 10am-3pm
Where
7120 S. Kings River Rd.
Parlier, CA 93648 (
map
)
Directions
From CA-99 South only:
Take the E. Adams Ave. exit towards Parlier.
Follow E. Adams Ave. about 10 miles and turn right where it dead-ends into S. Kings River Rd.
From CA-99 North or South:
Take the Manning Ave. exit towards Parlier/Reedley.
Turn left onto Lac Jac (traffic light).
Turn right onto E. Adams Ave.
Turn right where E. Adams Ave. dead-ends into S. Kings River Rd.
The Cat House on the Kings driveway will be on your left.
Please note: Directions from online mapping sites and many GPS navigation systems attempt to turn left onto S. Kings River Rd. from Manning Ave. This dead-ends in a corporation yard!
Where to Stay
Several local hotels offer discounted rates.
Admission
Cash donations, cat/kitten food or litter, trash bags, paper towels, hand sanitizer, laundry soap, etc.
Spring Fling Open House Raffle
Drawing on May 6th, 2023 at 1:00pm PDT.
Purrs and Love Quilt Set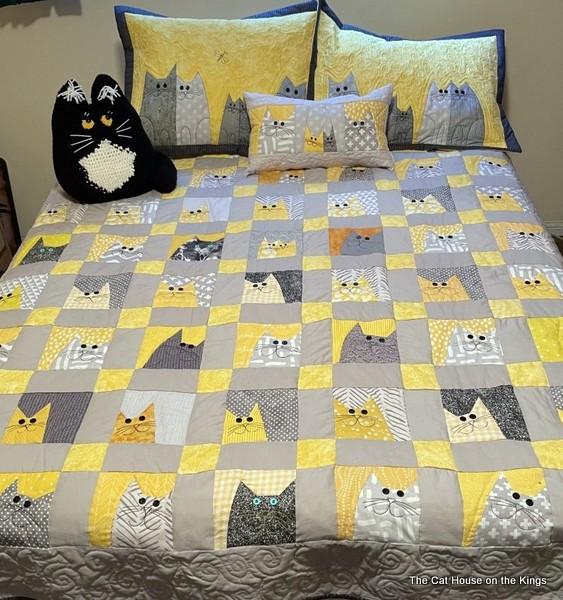 This stunning 72"x90" coordinated cotton/polyester quilt set, called Purrs and Love, will fit either a twin or double bed. It was made and generously donated by Diane Lotzer with Helen Howes' pattern. The set includes the quilt, 2 pillow shams, 1 zippered pillow and 1 cat pillow.
Rules
Raffle tickets are just $1 each. For every 20 tickets you purchase, you will get one free. So if you buy 60 you will actually get 63! To enter send a check or money order payable to The Cat House on the Kings and marked "RAFFLE TICKETS" with your phone number and e-mail address in the memo section to The Cat House on the Kings, 7120 S. Kings River Rd., Parlier, CA 93648. Alternatively, you may call our office at (559) 638-0030, Mon-Fri 8am-3:30pm (Pacific), to purchase tickets with a credit card ($20 minimum). We will ask for your e-mail address. For phone/check purchases, we will e-mail you a receipt with your ticket numbers. If you purchase tickets during an event at The Cat House on the Kings, you will receive physical ticket stubs. You need not be present to win. Shipping is free to U.S. addresses, but any international winner will need to help cover shipping costs.
Please note:
We are prohibited by law from accepting raffle ticket payments online. We apologize for the inconvenience.
Ticket sales end at 12:30pm PDT on May 6th 2023.
Silent Auction
We still have room for items to be offered in our Silent Auction. If you have items you'd like to donate, please email tammy@cathouseonthekings.com.
Vendors
The following vendors have already signed up for the Open House:
Blair's Crystal Quarters
Bubbly Brushes
Buddy's Bubble Waffles and More
Dreams N Ink Creations
Full Moon Crystals LLC
Happy Bite Pizza
Mickie and Company
Nartalia
Obsidian Body Wellness
Primos Auto Insurance
Rage n Resin
Sandy's Crafty Cuties
Sunset Scents by EME
Sweet BabyCakes, Gourmet Mini Pancakes
Vega Brothers Street Eats
ZansFunWithColor
If you are interested in participating as a vendor, please see our Vendor FAQ or our Vendor Application to sign up to participate.
Flyers
Please print and share our Event Flyer or our Vendor Flyer.
Questions?
Visitors: Call (559) 638-0030 or email info@cathouseonthekings.com
Vendors: Email vendor@cathouseonthekings.com