The Cat House on the Kings
Please help us win a grant by voting for us!

Please help us win a grant by voting for us
each and every day
in The NEW Shelter Challenge! Just click on the logo to the left or follow our
illustrated voting instructions
. If you have trouble voting, please
let us know
so that we can investigate.
Our Featured Cat ... Butterscotch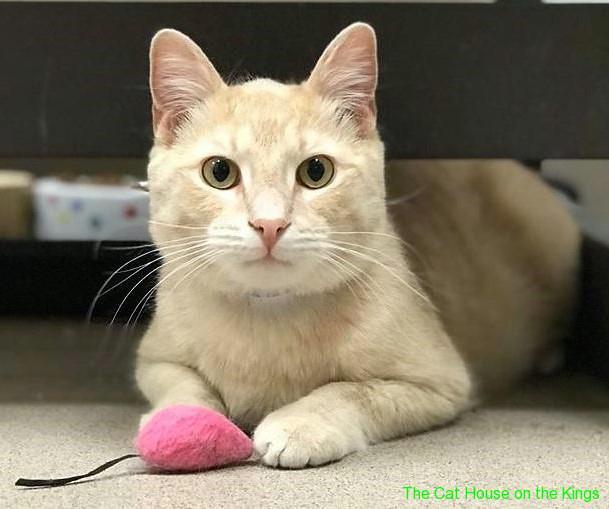 Butterscotch
9 months old Male Tabby
Butterscotch is a sweetheart snugglebug who is over-the-top friendly. This big hunka~chunka burning love is a purring lap warmer who seems reasonably chill about other cats. What he wants is love, toys, and food ... and you'll be rewarded with purrs, headbonks, playful pounces and a loyal companion. He's a pretty big boy already, and he's not quite finished growing so we expect him to be one of those delightfully big and wonderful cats who enjoys sunny windowsills, soft beds, and curling up next to (or on top of) you!
Our Mission
Our mission is to rescue and place as many animals as possible, to promote spay/neuter, and provide a safe, happy home for the cats who will live out their lives here. The Cat House on the Kings offers a unique, no-cage environment for 700+ cats and kittens that is unparalleled in the Central Valley.
To view a short video about The Cat House on the Kings just click the trangular Play button in the middle of the picture on the right.
Visiting Hours
We are open 7 days a week, except major holidays, by appointment only. For tours, adoptions or spay/neuter appointments, call (559) 638-0490. (For all other matters, please see our contact page.) For adoptions, you must submit an online application and receive approval before making your appointment. If you plan to stay overnight in the area, several local hotels offer special rates for our visitors.
You may also visit our off-site adoption center at Petco, 4144 N. Blackstone Ave at Ashlan in Fresno. Call (559) 222-0228 for more information.
Adopting From Us
We are committed to placing animals in homes compatible with your and the animal's needs.
Adoption process:
Review our adoption policy to make sure it is acceptable to you (see below).
Complete our Adoption Application form.
An adoption coodinator will review your application and ask questions to make sure the animal will be a good match for your home.
If a successful match has been made, you may take the animal home. The adoption is finalized with the signed Adoption Contract and payment of the adoption fee. You will receive an information packet which should answer many of your questions about animal care.
We will follow up with you in about two weeks to make sure that you and the animal are getting along well. However, we encourage you to contact your adoption coordinator at any time with any concerns you may have.
Adoption policy:
The Cat House on the Kings selects adoptive homes at its sole discretion based on the needs and best interests of the animal. Therefore The Cat House on the Kings reserves the right to deny any adoption application.
The adopter must be at least 18 years old.
We adopt on a first-come, first-served basis. To hold a specific animal you must make a deposit of the adoption fee. The deposit is refundable if you ultimately decide not to adopt the animal.
We require cats and kittens to be kept indoors at all times. We require dogs to be kept indoors as much as possible and not left out at night.
We discourage declawing cats (and can advise on alternatives).
We do not adopt small kittens to families with young children.
We require both a photo ID & proof of current address (e.g. driver's license or recent utility bill).
We ask that people who rent show proof that pets are allowed.
Payment in cash is required at our off-site adoption center and preferred at the sanctuary.
Adoption Fee:
Unless otherwise noted for a specific animal, our adoption fees are as follows:
$35/cat
$65/kitten ($100 for 2)
All cats and kittens are spayed or neutered, vaccinated, tested for FeLV/FIV, treated for fleas and ear mites, microchipped and litter-box trained prior to adoption.
$150/dog
All dogs are spayed or neutered, vaccinated, microchipped and treated for fleas prior to adoption.
Adoption fees help to offset rescue and medical expenses but rarely exceed them. Additional donations are always welcome.
---
Contact Us
For more information and an online application form, please visit us at
www.cathouseonthekings.com
.
7120 S. Kings River Rd.
Parlier, CA 93648-9720
Phone:
(559) 638-8696
Email:
info@cathouseonthekings.com
Click here for a list of our adoptable pets.
---