Adopt
The Cat House on the Kings doesn't only take in surrendered cats, we also actively rescue cats and kittens from local animal shelters and "the streets" (many of our animals are found abandoned on the side of the road), restore them to health, and find them loving homes. We rescue and place hundreds of cats and kittens every year. Oh, and we don't just rescue cats — we take in puppies and dogs too!
Listed below is our Winter Collection of cats and dogs available for adoption. For more information and photos on a specific critter, and to fill out an online adoption application, click on the critter's picture or the MORE button.
If you cannot decide which critter would be the best match for your family, just fill out a general cat or dog adoption application and one of our adoption coordinators will be happy to help match you with someone suitable.
All adoptable animals are spayed or neutered, vaccinated, microchipped and treated for fleas. All cats and kittens are also treated for worms and ear mites, tested for FeLV/FIV and litter-box trained.
For more information please read about how to adopt a cat or dog from The Cat House.
Adoption Fees
| | |
| --- | --- |
| Cats: | $25/cat, $50/kitten ($75 for two) |
| Dogs: | $150/dog |
Please note: Payment in cash is required at our off-site adoption center and preferred at the sanctuary.
Available Cats and Kittens
Adoption Locations
You are welcome to visit our on-site adoption center. Visits are by appointment only. Please call (559) 638-0490 for an appointment.
Our off-site adoption center at Petco, 4144 N. Blackstone Ave at Ashlan in Fresno, is now open daily 10am-5pm and Wed 10am-6pm. Please call (559) 222-0CAT (0228) for more information.
---
Sanctuary Visiting Hours
We are open 7 days a week, except major holidays, by appointment only. For tours, adoptions or spay/neuter appointments, call (559) 638-0490. (For all other matters, please see our contact page.) If you plan to stay overnight in the area, several local hotels offer special rates for our visitors.
You may also visit our off-site adoption center at Petco, 4144 N. Blackstone Ave at Ashlan in Fresno. Call (559) 222-0228 for more information.
---
Not Ready to Adopt?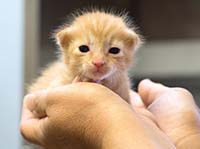 Foster a Kitten!
We still have kittens we've rescued from local shelters. Many are very young — too young to be adopted — and need lots of TLC and handling to bond with humans.
Never done this before? Don't worry! We'll provide all the stuff you need to get started, and we'll be in contact so that you'll know what to do, and you'll have a good experience. And who knows, maybe you'll bond with your kitten, and end up adopting him!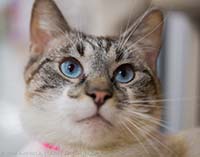 Sponsor a Cat
We know that some of our cats, for whatever reasons — old age, trauma, or medical problems — will never be adopted and will spend their lives here. We cherish these kitties and always want to be able to provide the best for them. We promised them that they would never again have to worry about having enough food to eat, a warm bed in which to snuggle, or a caring human to give them lots of love and to take care of their health.
We also realize that some of you may not be able to adopt one of our cats but would like to be able to help them out. That's why we have the SPONSOR-A-CAT program. You can become a sponsor for just $15 a month.
Your donation helps pay for the basic needs of each cat during its stay with us. When you sign-up to sponsor a cat you will be able to view their story and latest pictures. You are also welcome (and encouraged!) to visit us and "your" cat as often as you can. The cats do remember frequent visitors, and enjoy the individual love and attention their sponsors provide.
Available Puppies and Dogs