Welcome to The Cat House on the Kings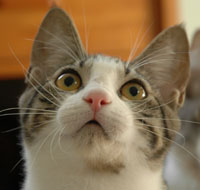 Our Mission
The Cat House on the Kings is California's largest no-cage, no-kill, lifetime cat sanctuary and adoption center. Our mission is to place rescued cats and kittens into loving, permanent homes; to provide a safe, happy and healthy home for unwanted cats and kittens in a unique, no-cage facility; to prevent pet overpopulation through spaying and neutering; and to educate the public about responsible pet ownership.
In a Nutshell
Lynea Lattanzio, who founded and runs The Cat House on the Kings, talks about how it came about and gives you a peek into our unique environment in this video created by Jack Perez.
The Cat House is a 501(c)(3) nonprofit corporation, receives no government or public funding, and relies entirely on donations from the public to carry out its mission.
Since its founding 21 years ago, The Cat House on the Kings has saved over 20,000 cats and 6,000 dogs (not counting the 40,000 animals we have spayed and neutered!) and currently cares for more than 700 cats and kittens, a dozen or so dogs and a handful of goats, who earn their keep as lawnmowers! As you can imagine, we need quite a lot of pet supplies to keep all of our animals happy.
---
---
Live Video of the Cats
The webcam will remain inaccessible until HughesNet rolls out a product update later this year. Contrary to their promise, a recent bandwidth upgrade was not 100% transparent and they are unwilling to restore the previous service plan in the interim! Unfortunately we have no viable alternative. We sincerely apologize for the inconvenience.
HughesNet customers beware! If you depend on a static IP address, do not upgrade to Gen4 until they offer plans explicitly with this option!
It is
6:31 pm
, 76° and fair.
Visit The Cat House

Tour Our Facility
Check out our facility! Get a bird's eye view of The Cat House. Find out who loves the wood stove.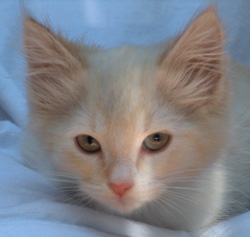 Foster a Kitten
It's kitten season, and we're up to our eyeballs in abandoned babies in need of special care. Please join us and become a foster mom (or dad!) to a litter of kittens.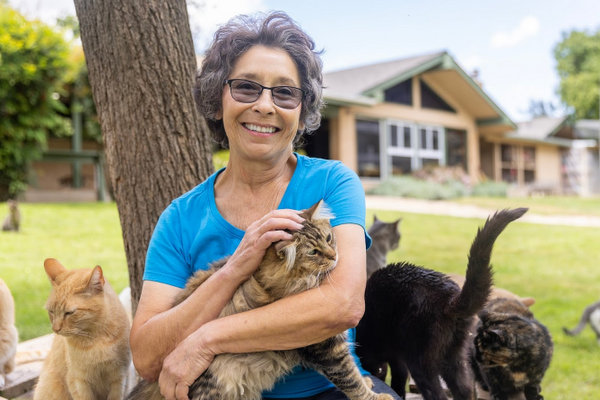 Meet Our Founder
Lynea Lattanzio is the brains behind the operation. She single-handedly designed, funded, and built The Cat House, and now oversees the running of the facility.
---
Contribute
We need your help! Check out how YOU can make a difference in the life of a cat at The Cat House on the Kings. We are a 501(c)(3) non-profit corporation (EIN 27-0015288), so your cash donations are tax-deductible.
---
Patronize our Affliate Partners
When you buy from one of our affiliate partners or through one of the ads which appear on our site, we receive a nominal consideration. The more you buy, the more you help the cats!
---
News Alert
Take a break and read Jackie Dale's monthly column about The Cat House in the Kings River Life online magazine. The April 27th edition is now available!

Attention rescue groups and shelters: Get the latest information on caring for FIV+ cats from this online webinar from Maddies Institute
Take a look at our new cat perches created by Eagle Scout Henry Munson. Thanks, Henry!
Bissell approves The Cat House for its Partners for Pets Program! Bissell has partnered with Lost Pets USA to donate to shelters for pet products purchased on bissell.com. With five purchases in a quarter, we will get entered in a contest which may win us a $4,000 general grant and a $1,000 grant for microchipping! Please see our Contribute page for more information.
ABC30 donates nearly $8K to The Cat House on the Kings!
ABC30 promised to donate $0.50 to us for every new Like on their Facebook page during December and, boy, did you Like their page! Take a look at the
ABC30 report
on their effort. Thank you, ABC30!

The 500 Cats children's book by Jill Rappaport with Lynea about how Mittens the kitten came to The Cat House is available in our online shop.
Jack Perez, who created the video which helped pull us back from the brink of financial disaster, has a new animated series on YouTube. It airs every Tuesday on the new YouTube Channel CINEFIX and features Jack and Uncle Al debating the value of movie trailers. Do you think you've seen the whole thing after watching a trailer? Please support Jack by clicking here to watch the video on YouTube. And please click the SUBSCRIBE button in the upper left corner of the video. It's FREE and you'll be notified of each new episode when it comes out!
NEW MERCHANDISE! We've partnered with Zazzle to offer some additional Cat House items for sale through which you can help our cats. Click here to see what's available.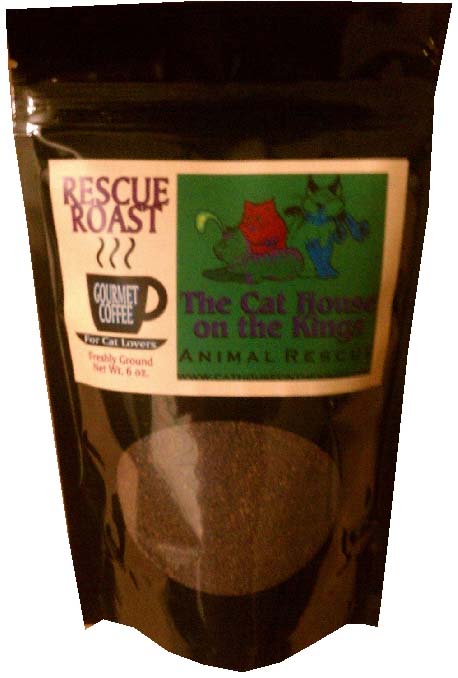 OUR OWN GOURMET COFFEE!
100% OF PROFITS ARE OURS!

Our friends at RaiseMoneyForPets.com have launched a line of Rescue Roast Gourmet Coffee in our honor and are donating ALL proceeds directly to us! There is a limited supply and the cost is only $6 per bag of freshly ground gourmet coffee with our logo on it! Now you can help us while enjoying your morning cup of Joe!
| | |
| --- | --- |
| | To donate a Feline Snoozers tower to our shelter, order through this page: Feline Snoozers Cat-a-log. At the top of the page, please choose your state to limit the choices in the drop down menus. |
Win a $25 Amazon or Barnes & Noble gift card by entering the monthly contest at Writerspace.com!
---
Get the Latest Scoop on The Cat House
Choose the newsletter you want to read from the drop-down list and click the "Go" button. You may need to install Adobe Reader.
Be green! Get our newsletter via email.
Follow The Cat House on the Kings: