Welcome to The Cat House on the Kings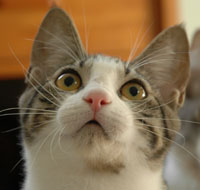 Our Mission
The Cat House on the Kings is California's largest no-cage, no-kill, lifetime cat sanctuary and adoption center. Our mission is to place rescued cats and kittens into loving, permanent homes; to provide a safe, happy and healthy home for unwanted cats and kittens in a unique, no-cage facility; to prevent pet overpopulation through spaying and neutering; and to educate the public about responsible pet ownership.
In a Nutshell
Lynea Lattanzio, who founded and runs The Cat House on the Kings, talks about how it came about and gives you a peek into our unique environment in this video created by Jack Perez.
The Cat House is a 501(c)(3) nonprofit corporation, receives no government or public funding, and relies entirely on donations from the public to carry out its mission.
Since its founding 21 years ago, The Cat House on the Kings has saved over 20,000 cats and 6,000 dogs (not counting the 40,000 animals we have spayed and neutered!) and currently cares for more than 700 cats and kittens, a dozen or so dogs and a handful of goats, who earn their keep as lawnmowers!
---
---
Visit The Cat House

Tour Our Facility
Check out our facility! Get a bird's eye view of The Cat House. Find out who loves the wood stove.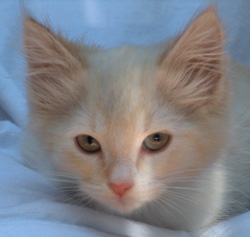 Foster a Kitten
Kitten season is around the corner and we will soon need more foster homes than ever! Can you foster and help socialize just one or two kittens?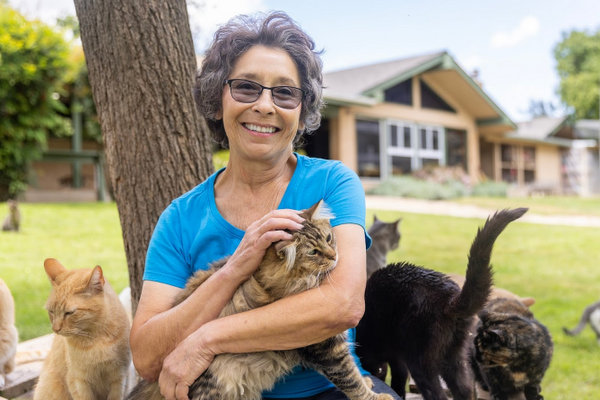 Meet Our Founder
Lynea Lattanzio is the brains behind the operation. She single-handedly designed, funded, and built The Cat House, and now oversees the running of the facility.
---
Contribute
We need your help! Check out how YOU can make a difference in the life of a cat at The Cat House on the Kings. We are a 501(c)(3) non-profit corporation (EIN 27-0015288), so your cash donations are tax-deductible.
---
Patronize our Affliate Partners
When you buy from one of our affiliate partners or through one of the ads which appear on our site, we receive a nominal consideration. The more you buy, the more you help the cats!
---
News Alert
It's time for pictures with Santa! Santa will be at the Fresno Petco on Saturday December 7th and 14th from 10am-3pm. Photos are $8.95 and the proceeds benefit our cats! Check out the TV spot and the flyer.
Take a break and read Jackie Dale's November 30th Kings River Life column: Open House, Jack Perez, Petco News.
Another daily vote contest! Please vote for The Cat House on the Kings video by Jack Perez in the Shelter Me Video Contest. As always, thank you for your support.
Help us by shopping at Amazon.com via AmazonSmile! You can now help us whenever you shop via AmazonSmile and qualifying purchases will generate a 0.5% donation from Amazon.com to The Cat House.
Did you miss our Open House? ValleyPBS didn't and now you can see what a good time you missed!
Do you know anyone who still thinks declawing a cat is a good idea? Have them take a look at www.pawproject.org and take them to see their new movie!
Attention rescue groups and shelters: Get the latest information on caring for FIV+ cats from this online webinar from Maddies Institute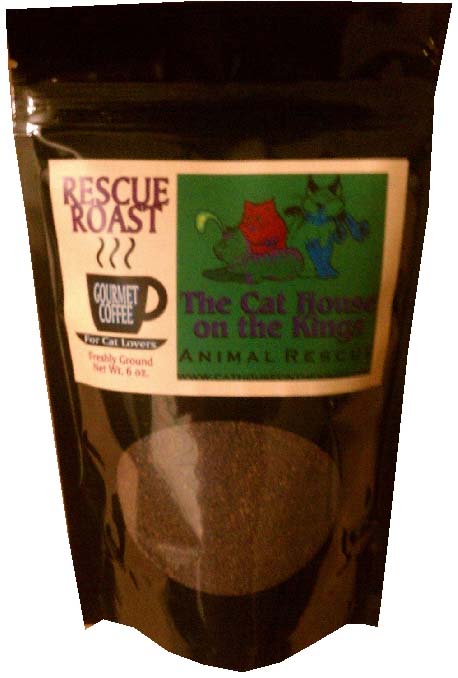 OUR OWN GOURMET COFFEE! 100% OF PROFITS ARE OURS! Our friends at RaiseMoneyForPets.com have launched a line of Rescue Roast Gourmet Coffee in our honor and are donating ALL proceeds directly to us! There is a limited supply and the cost is only $6 per bag of freshly ground gourmet coffee with our logo on it! Now you can help us while enjoying your morning cup of Joe!
| | |
| --- | --- |
| | To donate a Feline Snoozers tower to our shelter, order through this page: Feline Snoozers Cat-a-log. At the top of the page, please choose your state to limit the choices in the drop down menus. |
Win a $25 Amazon or Barnes & Noble gift card by entering the monthly contest at Writerspace.com!
---
Get the Latest Scoop on The Cat House
Choose the newsletter you want to read from the drop-down list and click the "Go" button. You may need to install Adobe Reader.
Be green! Get our newsletter via email.
Follow The Cat House on the Kings: