Siam has been adopted!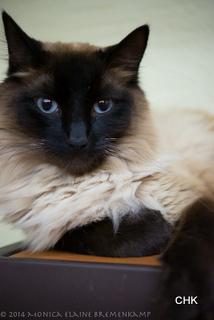 Two beautiful kitties (Midnight and Siam) were adopted together as kittens. Unfortunately, their human owner is elderly, hospitalized, and can no longer care for them. Midnight has been adopted, and now it's Siam's turn. He is friendly and loving and just wants a soft couch to call home! He has been around dogs.
Siam has gorgeous eyes and an amazing silky-soft shiny coat. Siam loves to be brushed and petted but doesn't really like to be picked up. He is still getting used to life at our Adoption Center but should relax and blossom in a new home. Won't you give him a second chance at love?