Take a Virtual Tour of The Cat House on the Kings
We are located on 12 acres along the Kings River in Parlier, CA

Watch a video tour from the ground or from the air.
We also have a self-guided tour for visitors.
Our long driveway provides plenty of parking for visitors. Visits are by appointment only. Our property is surrounded by a chain link fence which is 6' high and buried 4"; below ground. There is also a 4' inward facing overhang. The fence keeps our residents inside and other, non-winged critters outside. The "Sally Port" is a double set of gates which enable people and vehicles to enter the property without leaving an open gate through which residents may leave. They enter through the outer gate, close the gate behind them, and then enter through the inner gate. A generous bequest from Joan Droge enabled us to build the "Joan Droge Kitten Quarters." Here we can isolate kittens from exposure to illness before their immune systems have developed fully. The Kitten Quarters also serves as our reception, adoption center and gift shop. We have added a second building to the Kitten Quarters where we can better isolate kittens for medical treatment. There is also an enclosed run for puppies between the two buildings of the KQ. This is the office for Maintenance and Housekeeping. Our new array of solar panels runs along the driveway opposite the garage. It replaced the covered storage area. The webcam looks towards the "Sally Port" from the end of the new solar panel array. A new covered storage building now houses all of the supplies previously stored along the driveway opposite the garage. The ICU is an important part of the daily work at The Cat House and our experienced veterinary assistants arrive at 6am (or earlier!) to prepare special diets and begin medicating cats. Only seriously ill animals are kept in the ICU; animals on long-term medication are held in other areas. We have expanded the ICU by adding a second mobile parallel to the first. This is a small, portable office with a heater for winter. This is our feeding station for the orchard colony. The FIV Ward enable our residents who have tested positive for FIV to live comfortably while posing no risk of infection to the other residents. Kennels 1 to 3 are for long-term medication of our cats. Kennels 4 to 8 are for ICU recovery. The main house is 4,200 square feet. The wood stove is where you'll find many of our residents when it gets chilly outside. In the house you'll find the fish pond, Kitty Garden, Pink Room and Condo Room. The garage has a tent and wood-burning stove to keep the cats warm in winter. There are misters to keep them cool in the summer. ClubOne very generously funded the construction of an enclosure for a number of exotic cats who need special attention, such as Savannah Hybrids and Bengals. This enclosure was built over what used to be the swimming pool. The Dog Run is an enclosure for the puppies we rescue where they can run and bark and play without bothering the cats directly. It can be configured into two 80' x 10' or four 40' x 10' runs. This barn, affectionately known as "The Ghetto," is where we keep the mowers and tractors needed to maintain the property as well as one of the feeding stations. The Holiday Inn is a Tuff shed that is an open shelter where any of our free roaming residents can retreat from the heat or rain as needed. All six of our Tuff sheds have heaters on timers for winter. The "Pasture Project" is a separately fenced area in which new arrivals spend several months so that we can monitor how they are weathering the transition into the sanctuary before they are given the run of the property. The gates to the Pasture Project are opened twice a year in mid-April and mid-October so the cats have the choice of relocating to any of the 12+ feeding stations on the property. There are two Tuff sheds in the Pasture Project for shelter. Both are heated in winter and have cooling misters for the summer. There are also trees which our new residents delight in climbing and from which they like to watch visitors. Kennel 13 is a 25' x 40' enclosure. Kennel 12 is an 25' x 40' enclosure with trees. Tent City is our covered shelter and feeding station on the river. It has a 20' x 60' corrugated metal roof that is surrounded by a tent to keep out the wind and rain in winter. Both friendlies and ferals call Tent City home. The Kings River flows gently past the property. Where's Waldo Tree: Both friendlies and ferals find refuge at the river.
This is Lynea's favorite area!
She swears that one day she will have her own Tuff shed on stilts with a rope ladder. In it she will have a hammock and an extension cord. This, she says, is all she needs! The Poppy Burger Memorial Bench is a favorite point on Lynea's tours where visitors can rest and the cats give them all of the kitty love they can soak up! This field has been planted with trees which will grow into a shade canopy for the cats. The long-term plan for this field is to build several 150' square enclosures, each with four Tuff sheds around a shared patio with a cover for both the sheds and patio. The other amenities will be similar to the Pasture Project, including grass and trees. These will be places in which adoptable cats or cats who otherwise need more monitoring can live comfortably while they are here. Our original Solar Panels are now dwarfed by the solar array along the driveway! Our seniors have their own play yard with climbing structures. Alphie's Annex is an additional building within our Senior Center as an alternative for seniors who like a little extra quiet. The Sadie Malone Senior Center provides a warm, dry place for our senior residents (8 years and older) where they can doze uninterrupted by more boisterous youngsters. They can watch TV indoors or bask in the sunshine on the deck or in the garden. One bedroom is reserved as a "retreat" for overnight visitors to the sanctuary. Visitors must, however, share cooking and laundry facilities with the cats! Lynea used to live in the main house. Unfortunately she never had a moment away from the many cats who graciously allowed her to use the bedroom, so she moved into this mobile home. The solitude lasted all of about 5 minutes before she took in some special needs cats! The business office is a mobile which is parallel to Storage #2 closer to the driveway. Storage #2
The House
Please click on a picture to see a larger version.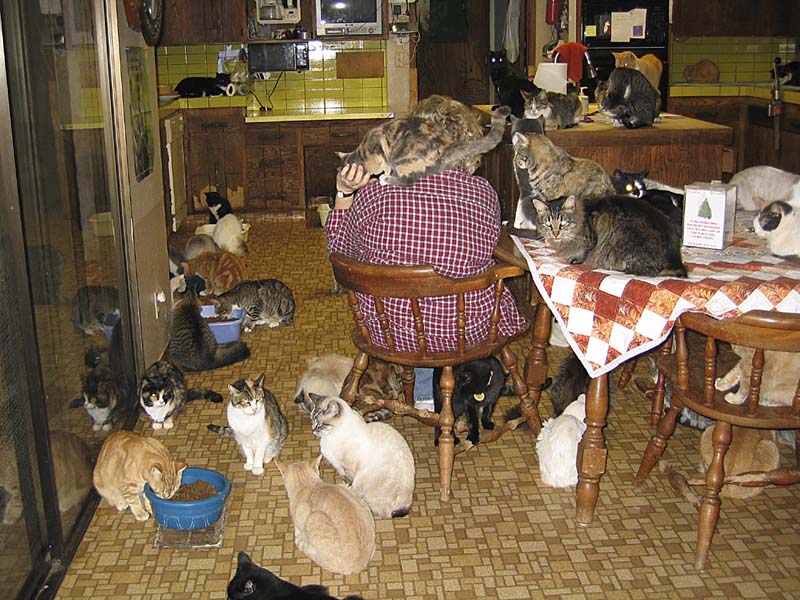 The Kitchen
The kitchen is where all the action is. Twice a day, Lynea prepares a mixture of canned and dry food that bring the cats, tame and feral alike, running to the kitchen. There's standing room only during this feeding frenzy! There is no place that is off limits to these hungry felines and any visitor will soon be surrounded by a bevy of new friends.
Every morning the staff prepares food that is hand-delivered to every feeding station and room/cage on the property. It takes six people two hours to prepare the food and deliver it throughout the 12 acres. Every cage, room and kennel receives a special diet. The majority of the animals receive a mix of L-Lysine, granulated garlic and brewer's yeast mixed with beef or chicken canned and dry food.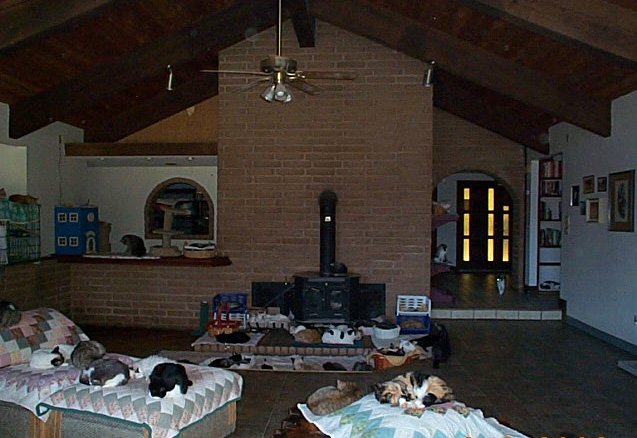 The Wood Stove
Around the wood stove is a favorite place for the cats. When it's cold outside this is the warmest spot in the house.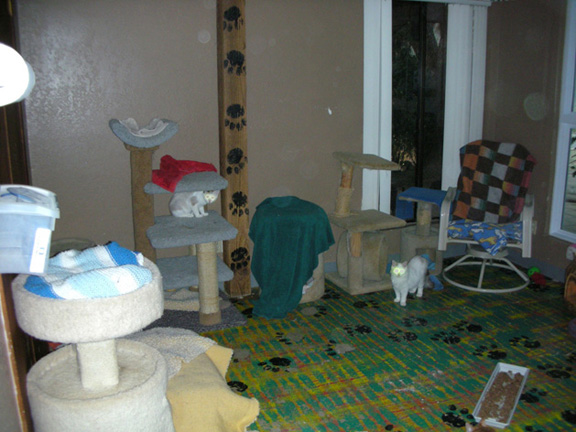 Kitty Garden
The Kitty Garden is a very large room with a sunny view and a loft. It was previously used to house kittens, but with the opening of the Joan Droge Kitten Quarters, we can now use this room and the Pink Room to acclimate new adult arrivals who have previously spent their lives indoors. Later they can explore the house and then the rest of the property as their fancy takes them.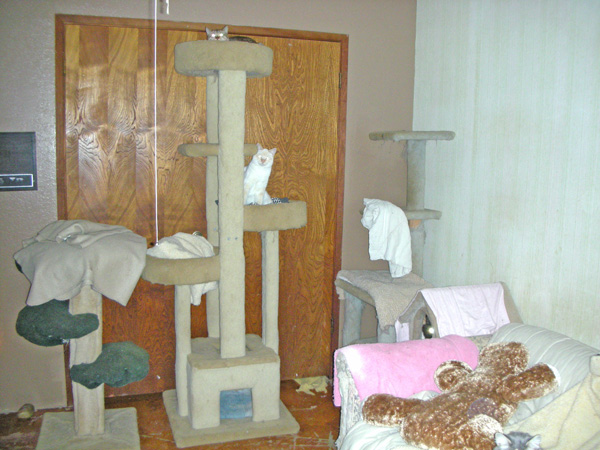 Pink Room
The Pink Room was named for the painted color of its concrete floor. This 16' square room houses new adult residents who have previously been indoor only. To date we have not been able to afford linoleum, so painted concrete has to do. Can you make a contribution to help fix this?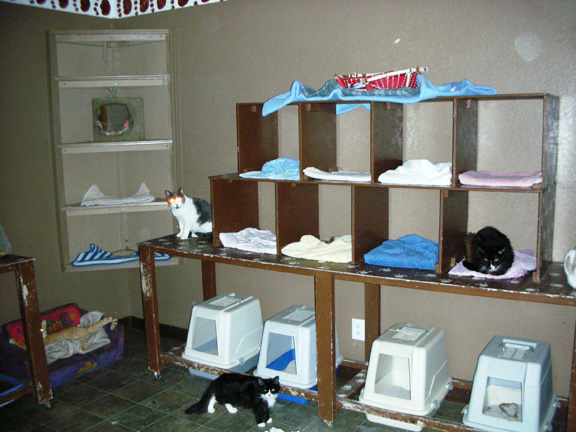 Condo Room
The Condo Room is a transitional room for adult cats. It has a kitty door to the outside and access to the house. With plenty of beds, food, water and litter boxes, why ever leave?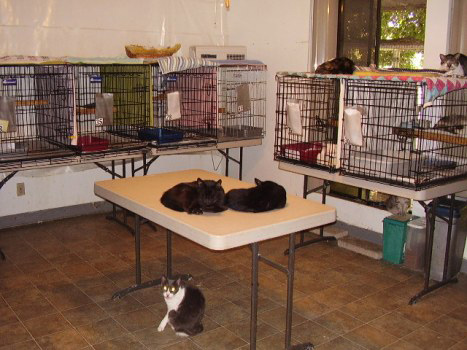 Short-Term Moderate Quarantine Wing
The former ICU in the house (and formerly Lynea's bedroom) is now used to provide a quarantine facility for cats needing to be isolated from the general population.
Tribute Benches
Our tribute benches are peaceful places to rest on our tours and provide the best photo opportunities because the cats will want to join you as soon as you sit down!
Poppy Burger Memorial Bench
Poppy Burger passed away in June 2013 after a brave battle with pancreatic cancer and bequeathed her estate to The Cat House on the Kings. We have installed a bench in her honor at Lynea's favorite place on the property along with one of Poppy's Buddhas. Poppy's 15 year old cat has since passed away and is now buried at the foot of the bench. For some reason, when Lynea's tours arrive at the bench, the cats swarm the visitors to give and receive as much love as each can absorb. Poppy's spirit and love of cats is clearly still with us here. R.I.P.
Heroes Bench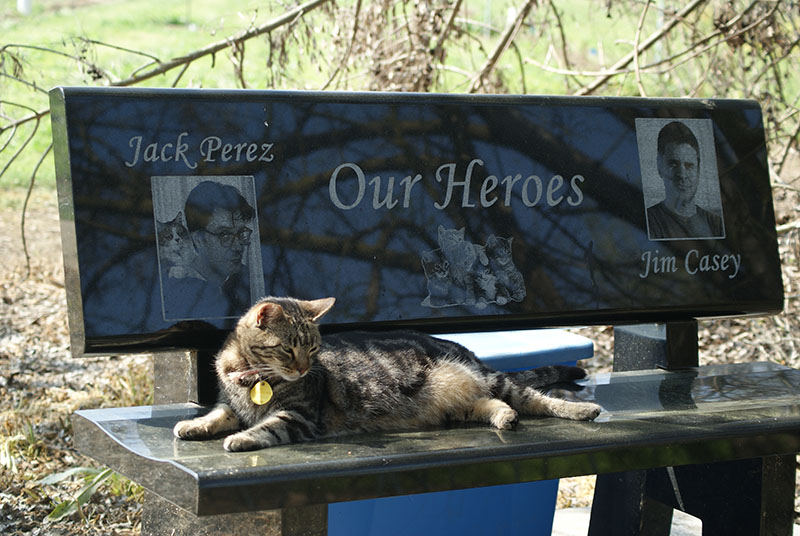 If it weren't for Jack Perez making an amazing video about Lynea and The Cat House on the Kings (on our home page) and Jim Casey getting the National Geographic Wild channel to present The Lady with 700 Cats, both spreading the word around the world about our mission, we might not have survived. They are our heroes!
The Outdoors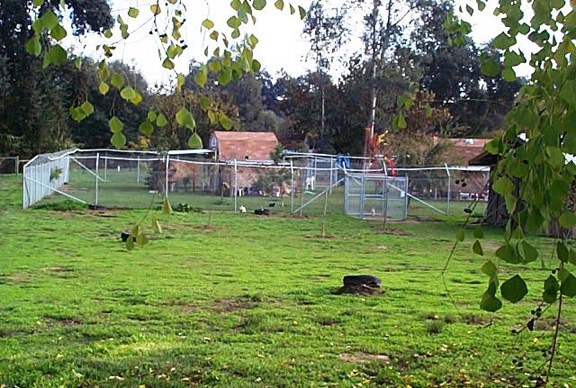 Pasture Project
The Pasture Project is a 75' x 100' fully fenced enclosure and quarantine area with two 2-story Tuff Sheds, patios, and lots of grass and trees. The houses have ceiling fans for summer and portable heaters for winter, and are used to house new cats prior to release. Every 6 months, the doors are opened and the cats are allowed to choose where on the property they wish to live. We have more pictures of the Pasture Project.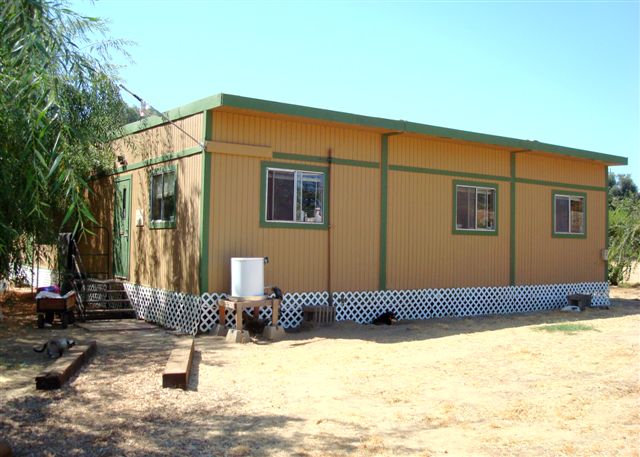 Joan Droge Kitten Quarters
The Joan Droge Kitten Quarters, our new kitten adoption center, opened in time for the 2009 kitten season. It enables us to limit kittens' exposure to anything which might make them ill while their immune systems are still developing. They have lots of room to run and play and otherwise entertain themselves and anyone who visits them. We have dedicated this new facility to Joan Droge, a long time supporter who left us a very generous bequest when she passed away in 2008.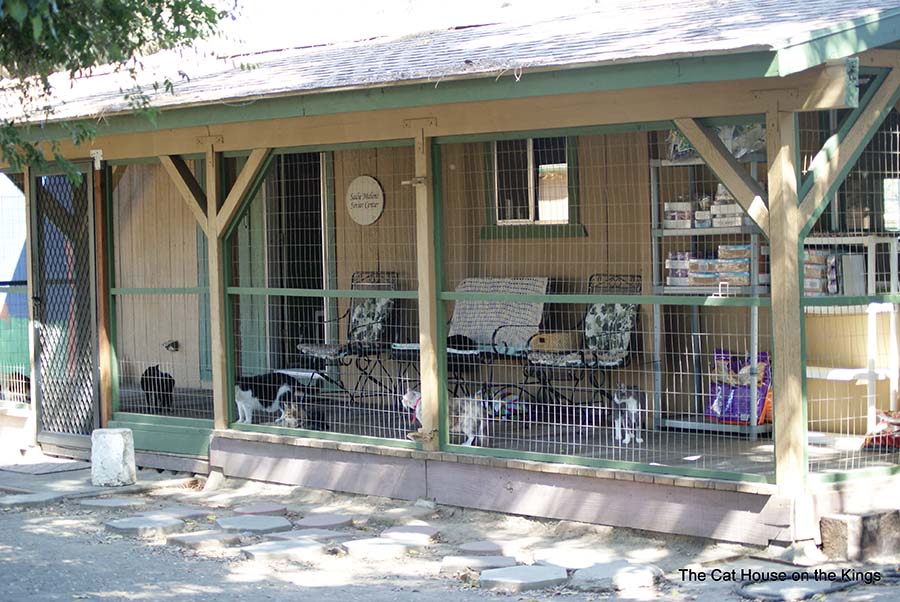 Sadie Malone Senior Center
We named this facility the Sadie Malone Senior Center thanks to the generosity of San Jose Mercury News readers and those who knew Sadie Malone as an irrepressible feral cat advocate and caretaker in downtown San Jose, CA. Sadie passed away December 26th, 2008, but her work is being carried on by other feral cat caretakers. Take a look at this video of the senior center (courtesy of Donna Jackel).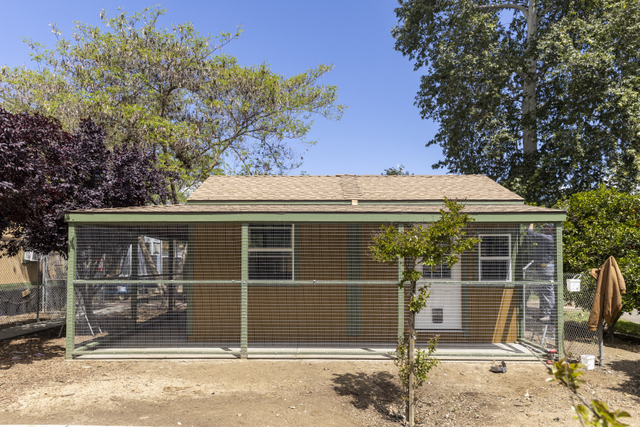 FIP House
Our latest addition is the FIP House where cats being treated for Feline Infectious Peritonitis (FIP) can live in some comfort during their long period of treatment (84 days of daily medication followed by 84 days of observation). Previously FIP was a fatal diagnosis, but now we have a medicine which we are seeing be over 80% effective in saving lives!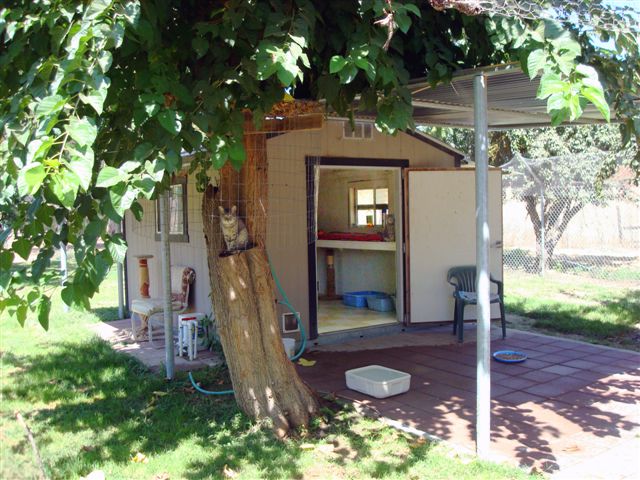 FIV Ward
First, let's talk about FIV: FIV stands for Feline Immunodeficiency Virus. It's a lentivirus, meaning that it progresses very slowly, gradually affecting a cat's immune system. It is passed through blood transfusions and through deep, penetrating bite wounds — primarily by stray, intact tom cats. The most well-known lentivirus in humans is HIV. But the two are not at all the same, and you can't get FIV from a cat.
FIV is diagnosed by a simple blood test, and cats that test positive for the virus are referred to as FIV positive, or FIV+. Read more about FIV.
At The Cat House on the Kings, we care for 10-12 FIV+ cats in a beautiful, fenced-in yard and a Tuff Shed.