You Can Make a Difference
We have a variety of ways you can make a difference both directly and indirectly with money and with time as a volunteer or foster home.
---
Donate Cash
We are desperately in need of donations if The Cat House is to survive.
It costs us $1 per day to feed and provide for a cat, and with over 700 residents, we need all the help we can get!
Please give whatever you can, and rest asssured that your donation is being used to help the animals (we're a thrifty lot!). All donations are tax-deductible under section 501(c)(3) of the Internal Revenue Code, and receipts are available upon request. Tax ID: 27-0015288.
Please note, to ensure your payment is correctly credited:
Click here to set up regular surrender payments.
Click here to set up regular sponsorhip donations.
Click here to honor someone with a memorial or tribute donation.
Click here to honor someone with a plaque installed at The Cat House on the Kings.
Otherwise, to make a one-time or regular donation, please use the form below.
You can also mail your donations to us. Please print and complete a donation form and then send it with your donation to:
The Cat House on the Kings
7120 S. Kings River Rd.
Parlier, CA 93648
If you wish to make a donation on a regular basis and do not wish to use PayPal, your bank can set up automatic payments for you.
If your employer has a matching gift program, you can double the value of your donation! Many large companies match employee charitable contributions and all you have to do to double the value of your donation to us is to fill out their form and send it in.
---
Make a Memorial or Tribute Donation
You may make a tribute donation in honor of, or in memory of, a person or pet. We will send an acknowledgement card to the person you choose and will display the tribute on our Memorial or Tribute page.
---
Sponsor a Cat or Dog
We know that some of our cats, for whatever reasons — old age, trauma, or medical problems — will never be adopted and will spend their lives here. We cherish these kitties and always want to be able to provide the best for them. We promised them that they would never again have to worry about having enough food to eat, a warm bed in which to snuggle, or a caring human to give them lots of love and to take care of their health.
We also realize that some of you may not be able to adopt one of our cats but would like to be , able to help them out. That's why we have the SPONSOR-A-CAT program. You can become a sponsor for just $15 a month. Your donation helps pay for the basic needs of each cat during his/her stay with us. You can see your sponsored cat's story and latest picture via the Sponsor Check-in form on the right side of this page. You are also welcome (and encouraged!) to visit us and "your" cat as often as you can. The cats do remember frequent visitors, and enjoy the individual love and attention their sponsors provide.
To sponsor a cat or dog, please choose one of them from the Sponsors Needed section on the right, click on the Sponsor link and then fill out the simple online form or email us if you want to sponsor a cat or dog who is not currently listed.
---
Donate items from our Wish List
We have set up wishlists for important things we need at both Amazon and Chewy. You can buy from them and have the items shipped directly to us.
When you send us something via Amazon, Chewy or Walmart, please forward your order confirmation e-mail from them to donationreceipt@cathouseonthekings.com so we can send you a "Thank you" and donation receipt for your taxes. Otherwise we don't know who to thank because the packages do not provide us with any way to contact whoever had them sent.
We can always use donations of:
Bleach
Paper towels
Canned cat and kitten food
Scoopable litter
Postage stamps
Cat beds
Puppy pads
Pine cleaner
---
Shop to Give
When you shop at one of our Shop to Give partners or through one of the ads which appear on this website, we receive either a a donation as a percentage of your purchase or referral fee. The more you buy, the more you help the cats!
---
Donate through eBay Giving Works
| | |
| --- | --- |
| eBay Giving Works enables both sellers and buyers to support The Cat House on the Kings! If you sell on eBay, you can specify that a portion of the proceeds of your sale will be donated to us. If you shop on eBay, purchase from sellers who have indicated that they support us through eBay Giving Works. Click on the Giving Works button to the right for more information. | |
---
Donate Stock
There are several tax advantages to making a charitable gift of appreciated securities. You may hold appreciated stock and don't intend to sell it primarily because of the substantial capital gains tax due when an individual sells the stock.
As an example, if you bought stock for $1,000 several years ago and it is now worth $20,000. If you sold the $20,000 stock, you would pay capital gains tax on the $19,000 gain in value. However if you donate the stock you avoid paying capital gains tax and the full fair market value of stock qualifies for a charitable income tax deduction as permitted by law.
When the charity sells the stock, there is no capital gains tax due and the charity receives the full $20,000.
---
Donate your old car
Did you know you can donate your old car (running or not) to The Cat House on the Kings? To learn more, just click the picture!
---
Leave a Legacy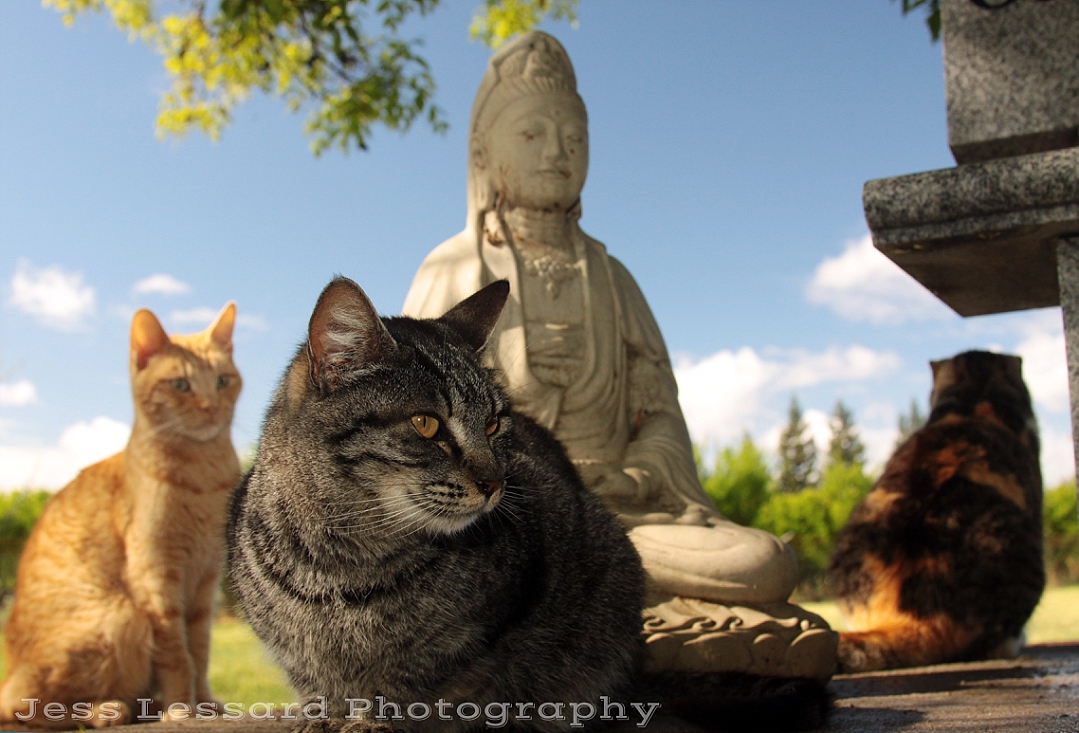 Planned giving is another unique philanthropic tool that allows you to ensure that our work will continue into the future and fulfill your charitable objectives, while also fulfilling your own financial objectives. Planned gifts include bequests through your will, gifts that provide income to you and others for life, gifts of life insurance, charitable lead trusts, and gifts of retirement plans. These gifts can be made in cash, stocks, bonds, personal property, life insurance and real estate. Please contact your estate planning attorney for more information.
Please visit LegalZoom or 2nd Chance 4 Pets for advice on making arrangements for your pets to be cared for after you are no longer able to do so.
Sponsors Needed
The following cats are currently available for sponsorship.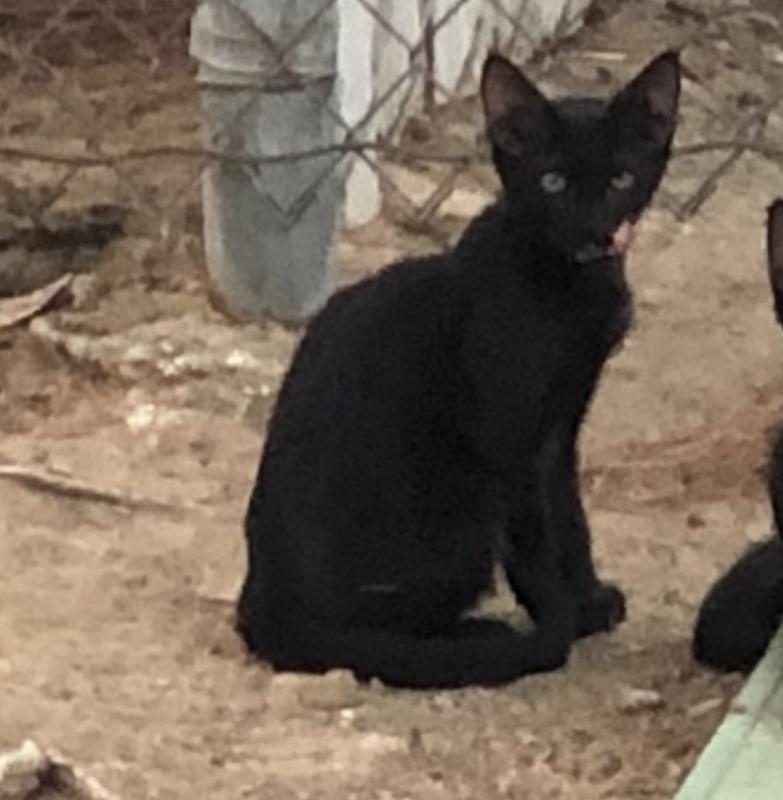 Sam
Born to a feral mom cat in the construction yard next to our station. This guy grew up at a news station. He's not a fan of people so he will live the rest of his life here at The Cat House. A sponsor would be greatly appreciated!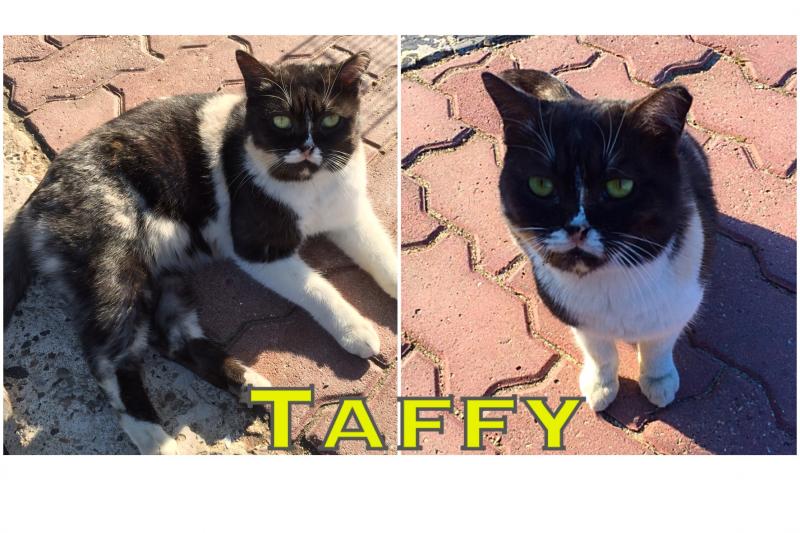 Taffy
Our sweet Taffy has come a very long way for an opportunity to find shelter. After a long voyage, she's ready for her happily ever after. She originally came from Kuwait and settled in nicely. She's a very sweet girl, very easy to handle, and she does ok with other cats and dogs. Overall she's an easy going lazy girl. It's does take a little time for her to blossom, but once she does, she shows you her true colors. Taffy is currently in our adoption room waiting for that special someone to come along and take her home. If you're looking for a new mature feline addition, please consider Taffy. Taffy needs a sponsor while she waits for her forever home.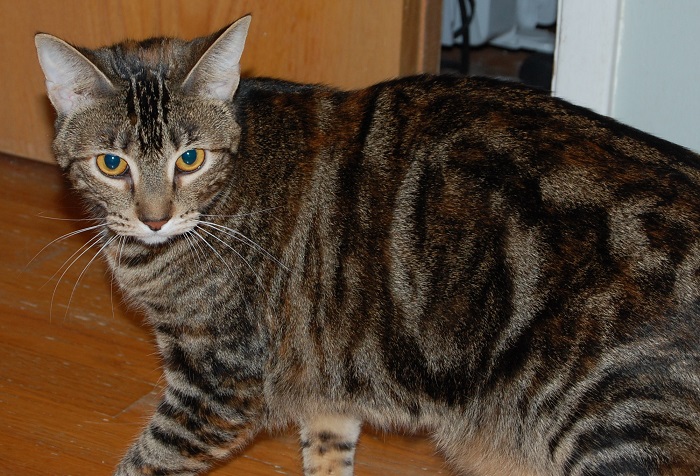 Tawny
Check out this beautiful girl, Tawny! She is a stunning cat. Tawny is as sweet as she is gorgeous. Tawny made her way to The Cat House on the Kings when her owner surrendered her due to health issues.
Tawny has done very well here and has become a favorite. Tawny would love a sponsor while she is waiting to be adopted!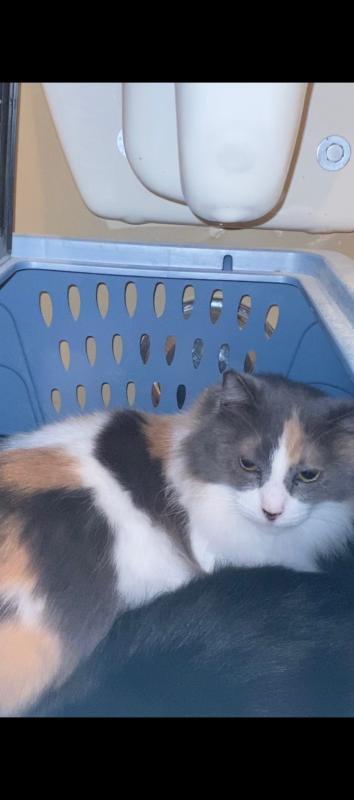 Fluffy
Fluffy was born in the sump by my office, she can be handled a little once she knows a person. Due to her age and lack of of trust chances of her being adopted are slim and a sponsor would be appreciated.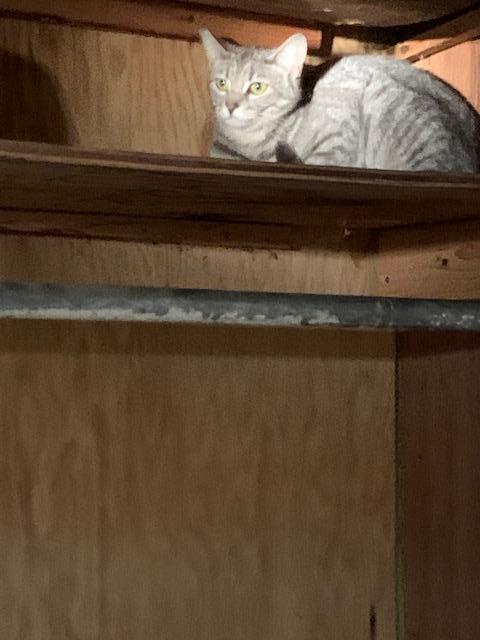 Ding
Ilene got this kitten shortly before her fall. She is a little wild. Been on her own with other cats but only a person coming in to feed the cats. Hasn't been with people for at least 6 months, will love the rest of her life at The Cat House.
---
Sponsor Check-in
For a secure link to view the full story on your sponsored cats (or dogs) or to set up your sponsorship donations, enter your e-mail address here and click "Go".
---
Foster Homes Needed
Each year we hear the same sad stories: "We didn't think she was outside that long", "They said she was too young", and "I thought I could find homes for all of them." Because of these excuses, we have plenty of kittens in need of foster homes.
You can make a difference by becoming a foster home. Check out our Foster Program!
---
Volunteer Your Time and Skills
Come to The Cat House and help us care for the cats! The Cat House couldn't operate without our wonderful volunteers, and we always need more! We offer a variety of volunteer opportunities and try to match each person's skills with the activities they most enjoy. Volunteers of any age are welcome, but volunteers under 15 years of age must be accompanied by an adult. Please fill out out online volunteer form if you are interested in helping with any of the following:
Shelter Workers and Cat Cuddlers assist the staff in caring for our cats. They groom, cuddle and play with the cats and kittens, scoop poop, clean, sweep, and mop, in general ensure that our shelter is clean and the animals get all of the affection and socialization they need.
Adoption Volunteers help us place more cats and kittens into permanent homes by coordinating off-site adoptions in Fresno. Duties include screening potential adopters, unloading cats and kittens from carriers into cages, keeping cages neat and clean, and loading everything up at the end of the day.
We desperately need Foster Parents! Being a foster mom or dad to a litter of kittens, or a mama cat with kittens is a wonderful experience, and critical to the little ones' lives. If you're interested, please fill out our online foster application to tell us about yourself and your home.
Fundraisers are needed year round. We welcome ideas and suggestions to build our financial resources so that we can continue to improve and operate the shelter. We also need volunteers to assist at fundraising events, such as yard sales, open houses and Super Adoption, throughout the year. Fundraising is another opportunity for those with limited time to help.
---
Dedication Wall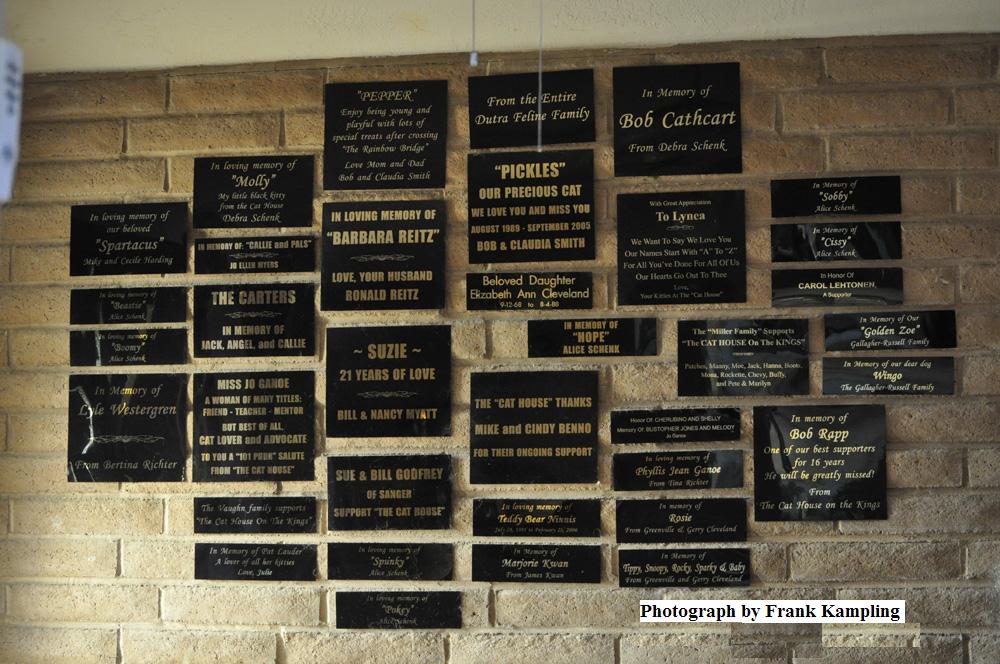 The Cat House on the Kings has established a Dedication Wall in the entryway to our main house where you can have a plaque in memory of a loved one (In Memory of ...), to honor someone (In Honor of ...), or just to show your support of (The Miller family supports ...). The plaques are black metal with gold lettering.
Available Sizes
| | |
| --- | --- |
| 12" w x 3" h | $100 |
| 12" w x 7" h | $180 |
| 12" w x 10.5" h | $250 |
Request your plaque online or view previously installed plaques. Note: You have a choice to pay for your plaque either online or by check.
Memorial Benches
We have a number of locations on our walking tour where visitors can rest on benches to soak up the peaceful atmosphere and pet the cats who will inevitably hop up and ask for attention. The benches have been donated in tribute to someone special. If you are interested in donating a bench engraved with a message and/or a photo of a loved one, please contact us about location availability. Benches can be ordered from Davila Memorials & Granite (559) 528-9855.