Winkie is available for adoption at our Blackstone Ave Petco Adoption Center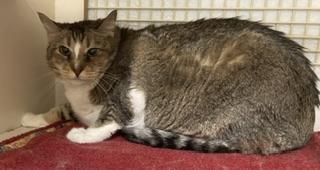 Male
Tabby
White
9 years old
This big burly boy named Winkie really needs a loving hero! He was adopted as a kitten but has recently returned to us because his person sadly passed away. Winkie has just been checked out by the vet and had a dental cleaning done. We also had his blood work done, and he got a clean bill of health. The change is difficult for him, and he is feeling the stress, confusion, and uncertainty of the adoption center among the other kitties. A quiet home without other pets or children would be the greatest comfort for him. All he wants to do is bonk your hand for pets, lay next to you on the couch to watch tv, be gently brushed, and have the security of soothing affection. He's a mature but very sweet and sturdy guy. Could you be the longed-for hero that can erase the confusion that this handsome hunk named Winkie finds himself in? He'd sure love to snuggle up in the circle of your secure and welcoming world.
Please note:
Winkie would do best as an only child
Winkie needs a home with no dogs and no young children.