Radar has been adopted!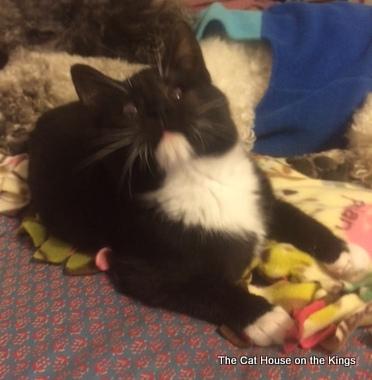 Radar is an absolute cuddlebug cutie pie who was rescued from a gutter in the middle of a rainstorm. His eyes showed that they had been badly infected in the past (and untreated), and as a result he has scar tissue over both of them. . But what he lacks in vision, he more than makes up for in his over-the-top lovable personality! He enjoys playing with other kitties and does just fine with the calm standard poodle in his foster home. And when you pick him up or pet him ~ he purrs like a champion! He is now healthy ... and he doesn't know that he's vision impaired ... he just knows that he loves to purr and play! He is waiting for a special home who will fully appreciate what a charmer he is! (Medical note: On 6/16/15 Radar has both of his eyes removed ... once he is fully recovered, we do not anticipate future medical issues)
*** SPECIAL NOTE: Chief Chelsea is Radar's best friend (orange Tabby about his age) and she serves as his "seeing eye cat." We would really love for a family to adopt them both, since they are so attached/bonded and because she keeps him from being scared!
(Adopt them together for just $70)
Chief Chelsea: http://www.cathouseonthekings.com/adoption/cat.php?id=11359&reload=yes