Chief Chelsea has been adopted!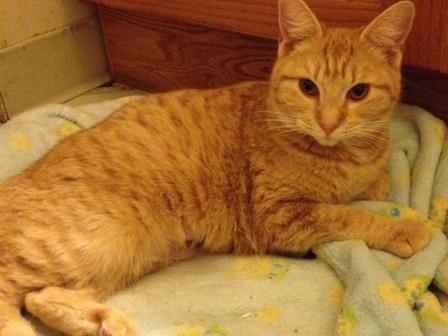 Chief Chelsea is an over-the-top friendly and patriotic pussycat who was found exploring near the local Veteran's Administration hospital by a cat-loving VA nurse who was impressed with her beauty and friendliness and amazing purr! She just had to scoop her up! She's spent some time in a loving, local foster home with other cats, and she's not quite sure about the friendly dogs in the home ~ but give her some time! She's one of the rare female orange tabbies and has just an amazing personality!

*** SPECIAL NOTE: Chief Chelsea is best friends with a blind kitten (a bit younger) named Radar and she serves as his "seeing eye cat." We would really love for a family to adopt them both, since they are so attached/bonded and because she keeps him from being scared!
Radar: http://www.cathouseonthekings.com/adoption/cat.php?id=11279&reload=yes
Adopt them both for just $70!