Mario has been adopted!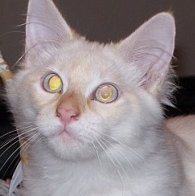 Mario and his litter were rescued from the SPCA as infants and bottle fed.¬ Mario is an absolutely beautiful Flame¬ Point Turkish Angora¬ mix.¬ He has medium length fur now.
If you want the cat that follows you around and wants to be a part of everything you do then you want Mario.¬ If you want the cat that HAS to be in your lap while you are on the computer or watching TV then you want Mario.¬ He will read with you, he will help you choose clothes in the morning, he will supervise when you scrub the sink!¬ He has even been known to go in to the restroom with his foster family.¬ In short, Mario is a people purrson.¬ He needs lots of love and attention but¬ can be¬ a little intimidated by small children.¬ Mario was raised with a Pit Bull and a Pug, so is used to dogs jumping over him and sneezing on him.¬ He enjoys playing and cuddling with other cats and willingly shares his dinner with them.¬ He is an absolute sweetheart and wants a family of his own to love.