Tuffnut has been adopted!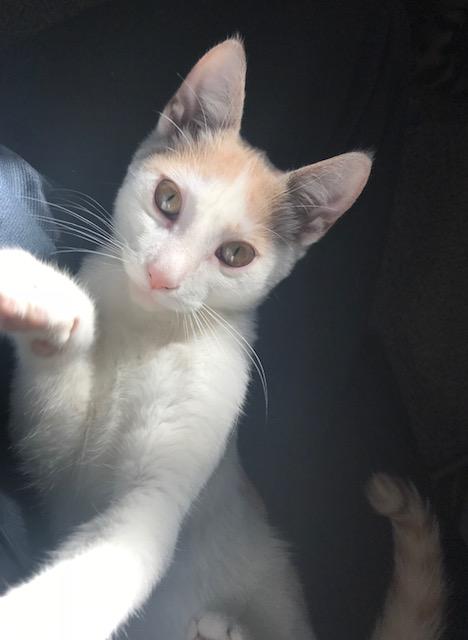 Male
Domestic Short Hair
Buff and White
Tuffnut is not in the care of The Cat House on the Kings and we cannot vouch for his personality or health status. Please call (707) 694-8155 with questions; do not contact The Cat House on the Kings about Tuffnut!
Please only apply for Ruffnut and Tuffnut as a pair they are bonded and can not be split up.
Tuffnut may be small but he is brave. He wants to see everything, smell everything, EAT everything. Big dog? No problem, he thinks that everyone wants to be his friend. In the tub? Doesn't slow him down, he wants to visit. In the loo? He'll join you if you let him. He's happiest on your shoulder, whether you're standing up or laying down. Actually, he's happiest taking his sisters legs out from under her...definitely the pesky little brother.
Ruffnut and her twin brother Tuffnut were found under my back shed after the fires in October. Their mother may have intended to come back but I was never able to trap her. We bottle fed them, altered them once old enough and it's now time for them to find the perfect fur-ever home. I am in love with them but must respect my Senior feline and she demands the sunny spot in the picture window.
Tuffnut and his twin sister need to stay together. They love people but love one another more, it's like nothing I've ever seen. They currently live with big and small dogs in addition to a grumpy old kitty. They like people and want attention and snuggles.
Tuffnut was neutered Feb 7. His tummy has healed nicely and the hair has grown back evenly. He has been vaccinated and tested negative for FLV. Both he and his sister have white ears and must remain indoor to decrease their chance of skin cancer.
Tuffnut is currently living in Santa Rosa, CA 95404