Foxy has been adopted!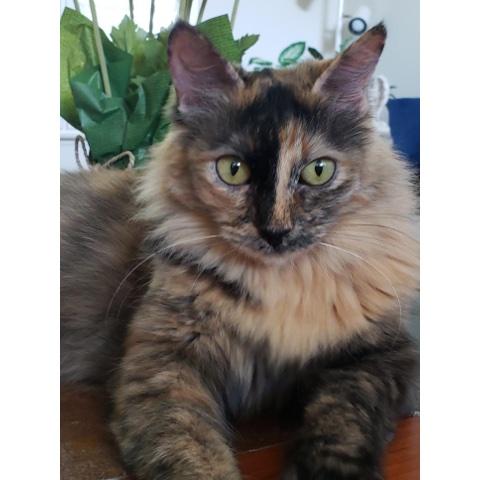 A message from Foxy's foster mom ~
I call her Foxy Mama as she came to me just after having a litter of kittens. She was rescued from a hoarding situation and was so skinny and scared ~ yet she craved attention. She is truly one of the most affectionate cats I've ever come across! She starts purring and making biscuits with her paws as soon as I start petting her. If I make a move to leave, she gently reaches out and taps my hand or arm with her paws to regain my attention, cutest thing ever! She also is amazingly playful. She has a fascination with peacock feathers and will even leap high into the air to capture them. She self entertains with all kinds of cat toys.

One of her most precious qualities is devotion. When I call her name she comes running. When I want some affectionate kitty time, she's always there. No running off after a couple of minutes. She even sleeps right outside my door every night (I have another cat in my room that has to be isolated from the others for the time being).

She gets along with my other cats but is still somewhat timid around a couple of them. She's afraid to be picked up but will stay right next to me when I cuddle her on the couch or bed. The best environment for her would likely be one without dogs, aggressive cats, or little kids. Having said that, Foxy really loves to play and always hangs out in the common areas as she likes to be involved in what's going on around her so she would be perfect for a family that wants to dote on her. Foxy is a treasure!