Marty has been adopted!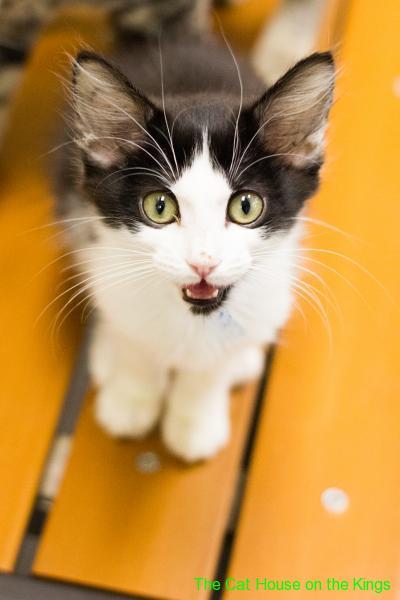 Dressed in his tiny tuxedo, silky fluffbug Marty was found alone and bewildered in the middle of a Sanger baseball field. In the tender care of his foster mom, this little sweetheart has been growing and thriving and spreading his big appetite for affection and fun! His foster mom refers to him as "a very loving little man who loves to cuddle with humans and other cats". He can zip and zoom with plenty of energy but especially loves to come in for a landing into a welcoming lap or open arms! He is irresistibly cute with his perfect face " drapes" and an ink-dipped chin! This bright-eyed boy is ready to bring his easy-going sweetness to a home that will treasure him.
We have listed this cat as Maine Coon mix based ONLY on its appearance. The reality is that the vast majority of cats and kittens in rescue are mixed breed cats of one form or another because the likelihood that two unfixed purebred cats were running around and making kittens is extremely remote. For example, if a kitten or cat is all grey and a shorthair, we may choose to list it as a Russian Blue Mix. This does not mean that the kitten actually has ANY Russian Blue in it whatsoever, and this should not be relied upon if you are making an adoption decision based on allergies. We also list particularly fluffy kittens as Maine Coon Mixes for the same reason. Our recommendation is always to choose a new pet based on personality, appearance, charm, and who "clicks" with you and NOT on any breed description we are using.