Finnegan has been adopted!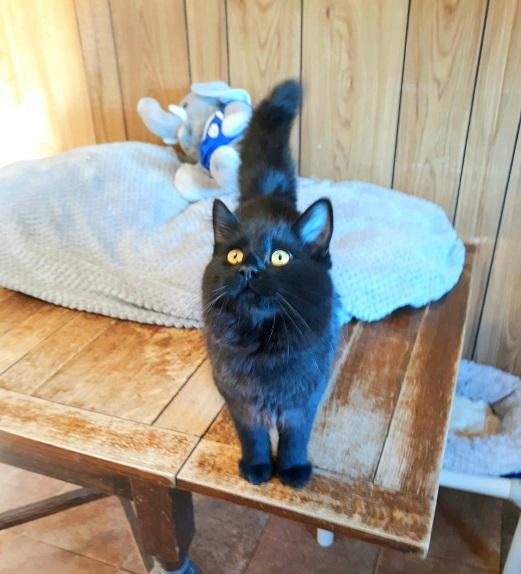 Finnegan is a sweet and fun-loving boy with a beautiful long soft black coat & he is ready to be the happy new addition in a great forever home of his own! All he needs to make his dream come true is a loving family to recognize his playful, friendly, affectionate, irresistible personality! Rolling jingle bell balls, dangling feathers, crinkly toys, even empty boxes keep him cheerfully romping and stomping! He has been around other kittens and cats! He can be a little cautious until he has a chance to check out the what where and who of new situations. He's a smart little guy! He's also a cuddlebug who loves to be petted and picked up to be talked to and snuggled. This perfect little guy named Finnegan is ready to be your sweet, affectionate, lively new addition!
We have listed this cat as Maine Coon mix based ONLY on its appearance. The reality is that the vast majority of cats and kittens in rescue are mixed breed cats of one form or another because the likelihood that two unfixed purebred cats were running around and making kittens is extremely remote. For example, if a kitten or cat is all grey and a shorthair, we may choose to list it as a Russian Blue Mix. This does not mean that the kitten actually has ANY Russian Blue in it whatsoever, and this should not be relied upon if you are making an adoption decision based on allergies. We also list particularly fluffy kittens as Maine Coon Mixes for the same reason. Our recommendation is always to choose a new pet based on personality, appearance, charm, and who "clicks" with you and NOT on any breed description we are using.