Samantha has been adopted!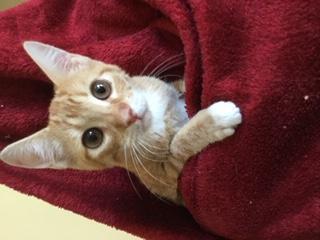 Female
Domestic Short Hair
Orange and White
Samantha is not in the care of The Cat House on the Kings and we cannot vouch for her personality or health status. Please call (661) 379-4249 with questions; do not contact The Cat House on the Kings about Samantha!
Samantha is super sweet and playful. She is very inquisitive and loves to explore her surroundings. She has been raised around other cats and my dogs.
Samantha came to me as a litter from a feral mother. She had six siblings. She needs a forever home of her own now.
Samantha is good with just about any type of family. She is very easy going and likes to play. She also likes to sleep with me on the bed.
Samantha is currently living in Bakersfield, CA 93312