Bourbon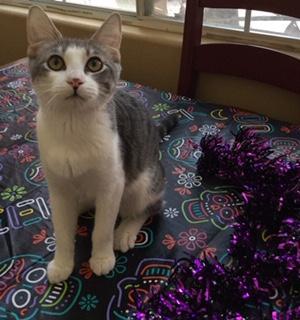 Female
Tabby
White
Bourbon is not in the care of The Cat House on the Kings and we cannot vouch for her personality or health status. Please call (661) 379-4249 with questions; do not contact The Cat House on the Kings about Bourbon!
Bourbon is very affectionate. She loves to play and explore her surroundings. Bourbon was on the Hallmark Home and Family show when she was 5 weeks old so she is a star!
Bourbon came to me at three week old found in a gutter. She was hand raised with her two siblings. Her siblings have found their forever homes but Bourbon needs her own now.
Bourbon has been raised with other cats and my dog. She is very social and would do well in any type of home except for a very small children.
Bourbon has been overlooked in adoptions due to smaller kittens which is sad because she is a very sweet cat. She will be a lover to whomever adopts her.
Bourbon is currently living in Bakersfield, CA 93312