Owen has been adopted!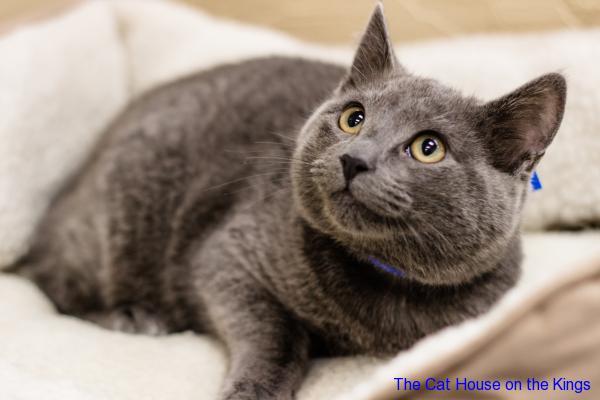 Meet Owen, the plushest and bluest of three darling brothers abandoned by a mailbox and rescued by the mail carrier! Playtime is the highlight of every day with these three rambunctious boys, but Owen is the one who enjoys all the hijinks but can also be found perched up high watching everything going on! With his big curiosity, every exploration with his brothers is resistible! In his uniquely beautiful bunny-soft coat of dense and dusky blue, he is a gorgeous little guy who will be a stunner when he's a big boy! Being petted and admired make him happy, and quiet times are fine with him too. He is still skittish with dogs and children because he's had very little exposure to them. This thoughtful, good-nature little guy will be a handsome and companionable addition in a sweet forever home that will treasure him. Could precious Owen be the gem you've been waiting for?
We have listed this cat as Russian based ONLY on its appearance. The reality is that the vast majority of cats and kittens in rescue are mixed breed cats of one form or another because the likelihood that two unfixed purebred cats were running around and making kittens is extremely remote. For example, if a kitten or cat is all grey and a shorthair, we may choose to list it as a Russian Blue Mix. This does not mean that the kitten actually has ANY Russian Blue in it whatsoever, and this should not be relied upon if you are making an adoption decision based on allergies. We also list particularly fluffy kittens as Maine Coon Mixes for the same reason. Our recommendation is always to choose a new pet based on personality, appearance, charm, and who "clicks" with you and NOT on any breed description we are using.