Muffy has been adopted!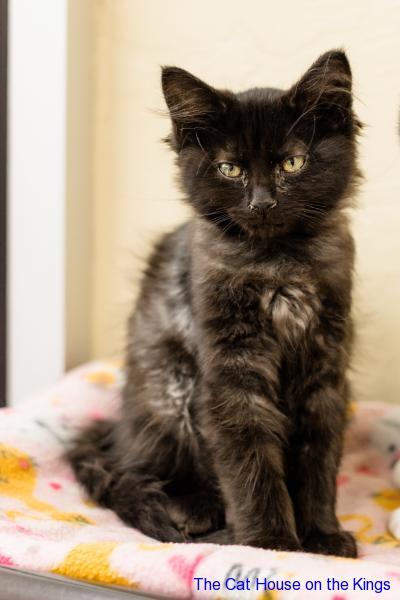 Powder puffy Muffy was abandoned in a box in the street along with her beautiful mother and two adorable brothers. They have been thriving in the TLC of their foster home where she makes sure no shoelace escapes an ambush and thorough investigation! She's black as a deep night sky and fluffy as the softest cotton puff - a truly classic ebony gem! She's good at entertaining herself, loves all kinds of toys, and never misses a playtime with her brothers. Her curiosity is big, and lots of kitten adventures and explorations keep her little self busy! Such a darling girl with a can-do spirit and happy good nature will be a lovable sweetheart in a secure and affectionate forever home. Muffy hopes she's just the perfect fluffbug for you!
We have listed this cat as Maine Coon mix based ONLY on its appearance. The reality is that the vast majority of cats and kittens in rescue are mixed breed cats of one form or another because the likelihood that two unfixed purebred cats were running around and making kittens is extremely remote. For example, if a kitten or cat is all grey and a shorthair, we may choose to list it as a Russian Blue Mix. This does not mean that the kitten actually has ANY Russian Blue in it whatsoever, and this should not be relied upon if you are making an adoption decision based on allergies. We also list particularly fluffy kittens as Maine Coon Mixes for the same reason. Our recommendation is always to choose a new pet based on personality, appearance, charm, and who "clicks" with you and NOT on any breed description we are using.