Henry has been adopted!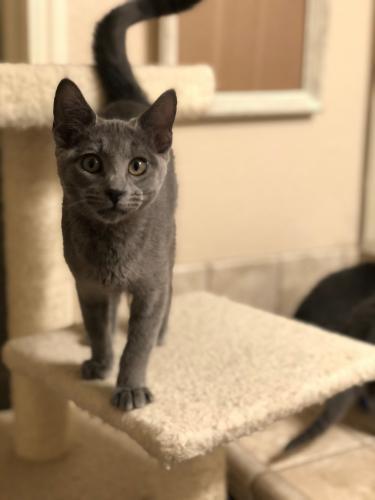 What could be more awesome than a cuddly snuggly boy in a plush coat of blue velvet? How about three in a purrfectly matched set! This is brother Henry whose foster mom says he's "the most affectionate kitty you will meet"! Your lap will be his favorite destination, and he'll be purring the whole time he's there! He and his brothers love every kind of toy, rolling ones, dangling ones, ones they can bounce and pounce on, and of course each other! He and his brothers have sweet, mellow, easy-going personalities that make them the most wonderful, loving companions! What a gem Henry will be in a forever home where he will be cherished! A trio of gorgeous gems would be pawsitively priceless!
We have listed this cat as Russian based ONLY on its appearance. The reality is that the vast majority of cats and kittens in rescue are mixed breed cats of one form or another because the likelihood that two unfixed purebred cats were running around and making kittens is extremely remote. For example, if a kitten or cat is all grey and a shorthair, we may choose to list it as a Russian Blue Mix. This does not mean that the kitten actually has ANY Russian Blue in it whatsoever, and this should not be relied upon if you are making an adoption decision based on allergies. We also list particularly fluffy kittens as Maine Coon Mixes for the same reason. Our recommendation is always to choose a new pet based on personality, appearance, charm, and who "clicks" with you and NOT on any breed description we are using.