Piper's adoption is in progress!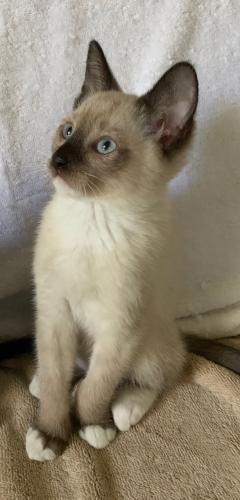 Hollywood-handsome Piper is always dressed for success in his luxurious latte coat with perfect rich chocolate highlights! And gorgeous sapphire eyes make him a truly stunning and photogenic boy! But it's his great personality, full of fun and affection, that will make him a joy in a great forever home of his own! When it's playtime this adorable guy gives it all his rough and tumble enthusiasm, then he's ready to cuddle up and sleep and dream enveloped in loving snuggles from his people! This velvety cuddlebug doll has gotten along well with other kittens and cats and is great with kids. Could an adorable lovebug, who can't resist a toy or game and welcomes every bit of love and affection, be your beloved boy? Precious Piper hopes your answer is Yes!
Please note:
Piper is shown as a Siamese Mix / Snowshoe / Snowshoe based solely on his appearance. We rarely take in purebred animals, so virtually all of them are a mix of several breeds. Do not make an adoption decision based only on our breed designation, especially if you are concerned about allergies.