Cat 19846 (Rosie)'s adoption is in progress!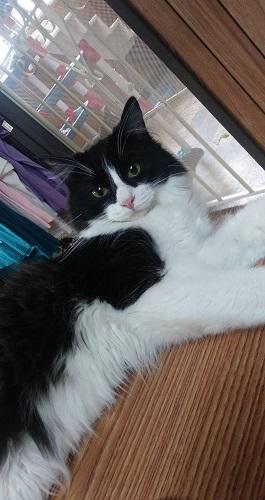 This angelic little gal is the purrfect blend of sugar and spice! When she turns on her sugary purrsonality you can expect a whole lot of purring, cuddling, biscuit making, and tender little kisses while she is lounging across your chest. When she turns on her spicey purrsonality you'll witness a mix of fearless explorations, uninhibited playfulness, and some wicked wrestling moves she uses on her favorite feather toys. She does not shy away from much. In fact, when she see's people Rosie wants to be the first to get attention! Her favorite mode of transportation is being lounged across a shoulder where she gets to explore the wonderful world that she is ready and willing to light up! Rosie also loves to play fetch! If you're looking for the purrfect package wrapped in black and white silky fluff, then look no further and give Rosie the gift of a forever home!
PLEASE NOTE: Rosie was born with a special condition called "Pectus excavatum". Her ribcage feels abnormal and her heart is not centered like a regular kitty. Rosie does not require any medicine or extra care for her condition. Her family just has to be mindful of her condition. She's been cleared by our vet and as time has passed, she's grown into a gorgeous cat and we hope someone will love her as much as we do. Darling Rosie would love to be a cherished addition to your secure and loving forever family.
Don't forget to check out her video! https://youtu.be/QP0_No8d6hk
Please note:
Cat 19846 (Rosie) is a Special Needs cat
Cat 19846 (Rosie) needs a home with no young children