Kitten 19957 is not ready for adoption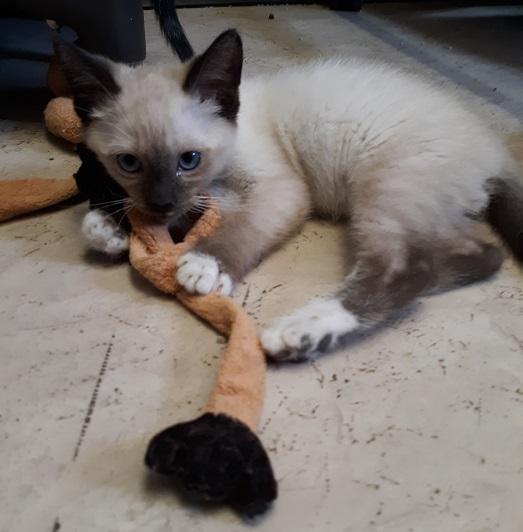 Fun-loving Kitten 19957 finds absolutely anything and everything fun to play with! He's one of a precious litter of gorgeous, happy little kittens who romp, stomp, race, and wrestle every single day. He hasn't had time around dogs or children but is likely to fit in with them with his very loving nature. He takes a little bit to asses new people and surroundings but once he's comfortable all he wants to do is play and get attention. Sitting in welcoming laps is also his specialty where he may groom himself! He couldn't be a more stunningly gorgeous, velvety, classic looking, blue-eyed boy! He does suffer from off and on again weepy eyes. We give him an immune booster to aid his possible allergy. We hope that someone can look past his little imperfection.
Please note:
Kitten 19957 is shown as a Siamese Mix based solely on his appearance. We rarely take in purebred animals, so virtually all of them are a mix of several breeds. Do not make an adoption decision based only on our breed designation, especially if you are concerned about allergies.