Sterling's adoption is in progress!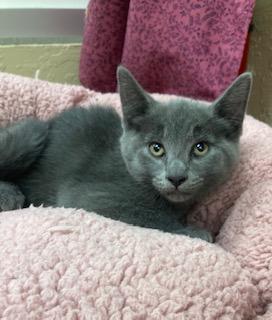 Hollywood-handsome Sterling may not be a burly boy, but he is a giant in sweetness and gentle affection, and is as plushy as a favorite teddy bear! He is a carbon copy of his beautiful sister Ava, and they would make quite a pair of sweethearts in a home that knows how great a double delight of kitties can be! With his high-spirited siblings he's a great favorite who can rock and roll through all the fun even though he can be a little shy with new people and never wins by throwing his weight around. He's just a total sweetie who loves to be held by the people he trusts and stretches his fuzzy wuzzy neck up for soft cheek rubs and little kisses! If a lovable, playful little guy, handsomely attired in a plush suit of pearl gray-blue looks like the perfect guy for you, cuddlebug Sterling is waiting to wrap his sweetness around your heart!
Please note:
Sterling is shown as a Russian Blue Mix based solely on his appearance. We rarely take in purebred animals, so virtually all of them are a mix of several breeds. Do not make an adoption decision based only on our breed designation, especially if you are concerned about allergies.