Fluffy's adoption is in progress!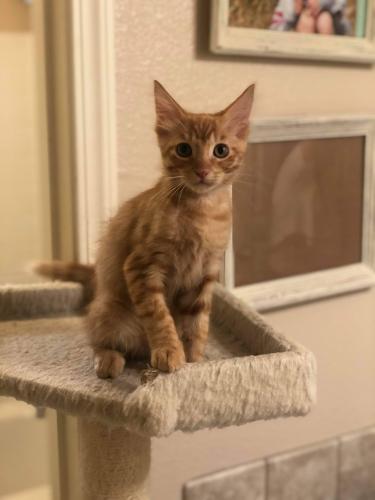 Fuzzy-eared, wide-eyed Fluffy is a supper playful orange boy who loves to be petted and rubbed all over! Happily bouncing through the day keeps him on his springy toes, especially with his favorite toys that roll or crinkle! If there's anything that needs to be explored, this curious little scout will be there first for a thorough inspection! He loves his adorable fostermates, and has been fine with bigger cats, dogs, and children in his foster home. When playtime winds down this sweetie will be on the lookout for some hands-on attention. In his extra fuzzy wuzzy autumn orange coat with deep ginger stripes, he is a true classic and irresistible to pet! He will benefit from regular brushing to keep him polished and silky. If playing and getting attention are on hold, you will probably find him cozily snoozing in a sink! What a gem this handsome boy is sure to be in a forever family as great as he is! Fun and affectionate Fluffy hopes you choose him!
Please note:
Fluffy is shown as a Tabby / Maine Coon Mix / Maine Coon Mix based solely on his appearance. We rarely take in purebred animals, so virtually all of them are a mix of several breeds. Do not make an adoption decision based only on our breed designation, especially if you are concerned about allergies.