Alaric's adoption is in progress!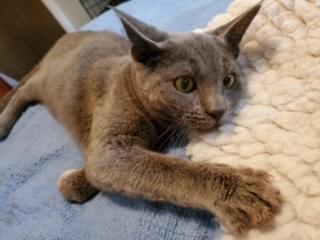 Alaric is a gentle giant, the biggest of his batch, Hollywood-handsome, and full of hugs and cuddles for the people he loves! He's dressed in a soft, fuzzy coat of polished, pearly blue-gray, with gorgeous eyes the color of liquid gold that are a perfect reflection of his sweet heart of gold! Lively playtimes are a favorite part of this happy boy's day, and every toy, game, and exploration is an instant favorite. He gets along with small dogs, but has to warm up to new cat friends. When this playful sweetheart winds down, he'll come looking for his people to be scooped up and snuggled and loved on. He's a uniquely gorgeous guy who will be a lovable, energetic treasure in a forever home as sweet as he is. Darling Alaric hopes you think he's irresistible!
Please note:
Alaric is shown as a Russian Blue Mix based solely on his appearance. We rarely take in purebred animals, so virtually all of them are a mix of several breeds. Do not make an adoption decision based only on our breed designation, especially if you are concerned about allergies.