Christina is not ready for adoption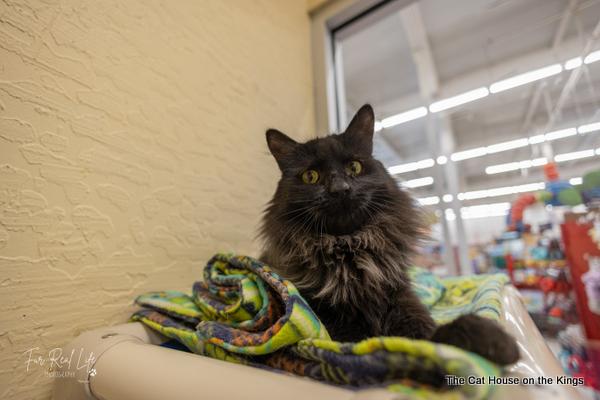 This little ebony powder puff is sweet and girlie Christina. What a darling doll she is from her floofy silky coat to her gentle and affectionate personality. Those big, beautiful sage green eyes follow everything and wisely assess all situations before she hops in. She's learning that toys are fun, but mostly she likes to be in a welcoming lap, preferably getting the brushing and petting she loves. This fluffy sweetheart does like to look her polished and pretty best! She was sadly abandoned as a tiny girl on a rural road and has been fostered since then in a protected environment that has not included cats, dogs so a calm environment is probably best for her. Could this sweet little black diamond be the cuddle bug treasure in your secure and loving forever home? Christina was born with bowlegged rear legs that has been checked by our vet. He performed x-rays and determined that there was nothing further that could be done. There shouldn't be any further medical needs for Christina. Precious Christina is hoping she has the key to your heart.
Please note:
Christina is shown as a Maine Coon Mix based solely on her appearance. We rarely take in purebred animals, so virtually all of them are a mix of several breeds. Do not make an adoption decision based only on our breed designation, especially if you are concerned about allergies.
Christina needs a home with no young children.