Nani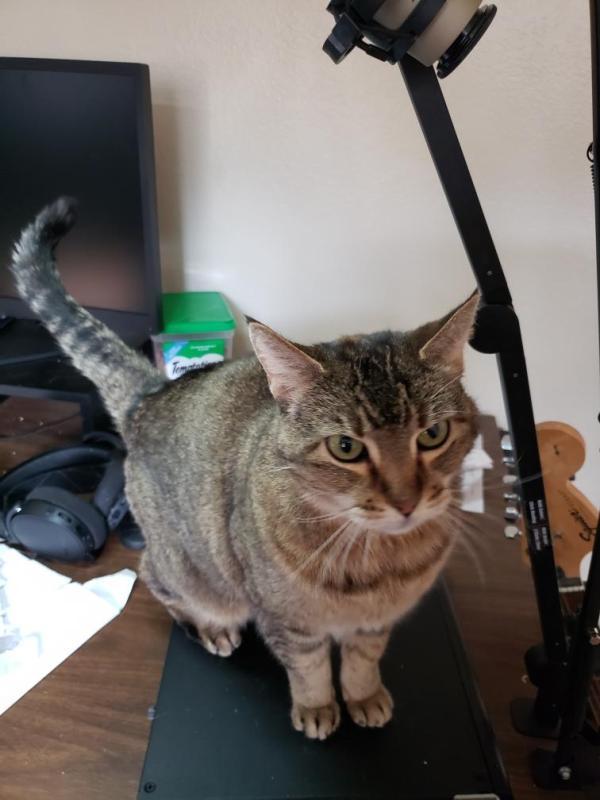 Female
Tabby
Brown
Nani is not in the care of The Cat House on the Kings and we cannot vouch for her personality or health status. Please call (559) 994-5650 with questions; do not contact The Cat House on the Kings about Nani!
Nani is a spunky senior brown tabby that has had a very comfy and fun life in our multi-animal home. She loves to play and can have lots of energy! Nani can get overstimulated even though she always wants love, so be sure to learn her warning signs of getting too excited! It's usually her tail swishing faster and her demeanor stiffens up. Nani is prone to nipping if you don't notice her warning signs, but she only does it to let you know to stop. Despite that, she is actually super sweet, talkative and loves attention all the time. She will attempt to sleep on the bed with you if you let her. She will be timid at first due to taking a little while of getting used to her new surroundings, but she bounces back quickly.
Nani was rescued as an older kitten from a feral momma, so she was still a little wild at the time. This furbaby was raised with lots of love in a multi animal home.
* Someone who is patient and is experienced with cats who have come from a feral past or had feral parents. * Nani has lived with Chloee and Ponyo for a good portion of her life and can be adopted with them, however she also would enjoy being an only pet in your home. * Nani prefers a dog free home, however if you have a small dog that is good with cats, they will tolerate the dog. * She prefer to be the only cats in the home. * She cats prefer an adult or senior home, no children please. * She is easy-going and can be playful during play time. They want more attention as they get more comfortable with you, but they are also very independent the majority of the time. As long as they are around you they are happy. * She can keep herself occupied during normal work hours as well. * She will hunt small animals like hamsters, birds, fish etc. If you have these in your home it might not be a great fit.
She is up-to-date on their vaccines and is spayed. * She prefers wet cat food over dry food, but will eat dry food in small amounts if left out. (She specifically likes Friskies Pate, the ocean fish and salmon ones.) * Will require paying a re-homing fee of at least 40$. * If possible, will need to schedule a home check/visit to see if you and your home are a right fit for her. * If for any reason you no longer wish to keep Nani, I will personally take her back no questions asked. Please reach out to me first if you are considering putting her back up for adoption. Nani is very important to our family and I wish to find them the best home they can be in. * If you have any other questions feel free to ask me. If you call, please leave a voicemail as I get a large amount of spam calls.
Nani is currently living in Elk Grove, CA 95757