Otis is available for adoption in an offsite foster home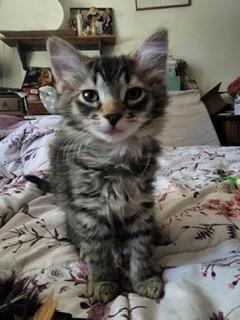 Male
Tabby / Maine Coon Mix
Black
13 weeks old
Otis and his sibling, Owen, were rescued from the inside of a wall in a house. The residents of the home heard their frantic cries and called the fire department for assistance. A very brave fireman was able to rescue these little guys and they have been happily thriving in foster care and are now ready to find forever homes. Otis is a friendly and playful kitten. He enjoys all kinds of toys as well as lots of kitten games and fun with Owen. Otis is said to be a "singer" and will express some of his emotions through his tuneful meowing, often when he is not happy about something. Once their abundant kitten energy has faded, the boys like to cuddle up for naps and snuggles with their foster humans. Otis gets along with other cats and small, well-behaved dogs. He has not been exposed to children. If you are looking for a playful, energetic, sweet and loving kitten to join your family, Otis would be a great choice!
very playful and friendly. Get along with other cats and small dogs. Loves to play with any and all toys! Will also cuddle up for a nap when they run out of energy. Otis will play you the song of his people whenever slightly dissatisfied
Please note:
Otis is shown as a Tabby / Maine Coon Mix / Maine Coon Mix based solely on his appearance. We rarely take in purebred animals, so virtually all of them are a mix of several breeds. Do not make an adoption decision based only on our breed designation, especially if you are concerned about allergies.