Cat 23077 (Ramona) is available for adoption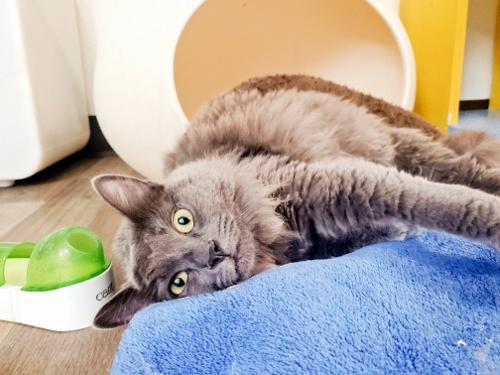 Female
Maine Coon Mix
Grey
1 year old
Meet showstopper Ramona, an absolutely darling and delightful fluffbug gal! To say she's cute would be an understatement, since one look at her brings on the oohs and ahhs! Her caretakers report "she's sweet, friendly, mellow, and very quiet. She loves to play with any toy, play chase, and explore, but her favorite toy is her adorable roommates! She takes a little time feeling comfortable around strangers but then rolls on her back to have her tummy tickled! Following her people around also keeps her happily occupied". Regular brushing will be a necessity with this poofy gal! What an irresistible lovebug treasure she is sure to be in a forever family as sweet as she is! Irresistible Ramona is ready to bounce right into your heart and home!
*Enjoys burying herself under the blankets
Please note:
Cat 23077 (Ramona) is shown as a Maine Coon Mix based solely on her appearance. We rarely take in purebred animals, so virtually all of them are a mix of several breeds. Do not make an adoption decision based only on our breed designation, especially if you are concerned about allergies.