Kitten 23303 (Gypsy) is available for adoption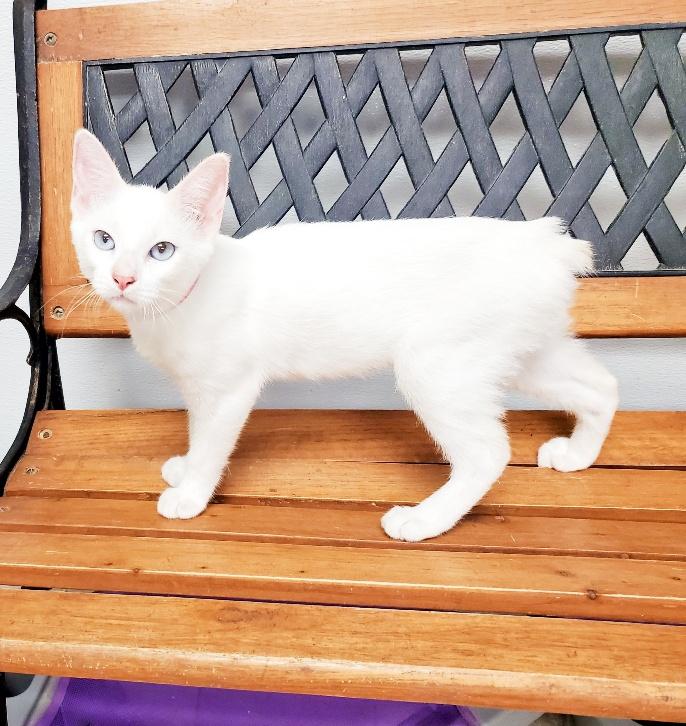 Female
Manx / Siamese Mix
Flame Point
5 months old
This delightful little gal is Gypsy. She's a cute little Manx Flame Point Siamese mix, with killer blue eyes and NO TAIL! She's super easy going, fits right in with her new friends, and loves meeting new people. She was fortunate enough to have been rescued with her mom and siblings.
This sweetheart bounces happily on her soft, velvety feet and has a dense and silky coat of beautiful white satin coat. Her kissable, delicate face with its pert little pink mouth makes her irresistibly lovely. Such a precious girl, full of fun and great affection, will be a treasure in a forever home as sweet as she is. Could spritely sweetheart Gypsy be the darling doll for you?
Please note:
Kitten 23303 (Gypsy) is shown as a Manx / Siamese Mix / Siamese Mix based solely on her appearance. We rarely take in purebred animals, so virtually all of them are a mix of several breeds. Do not make an adoption decision based only on our breed designation, especially if you are concerned about allergies.