Simon's adoption is in progress!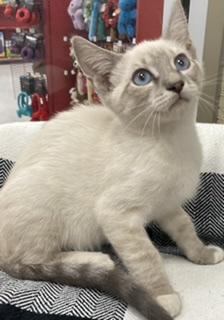 With his clear-skies blue eyes, extra fuzzy wuzzy latte coat, pale pearl gray highlights, and adorable ivory feet, Simon is an irresistible darling. But it's his very loving and affectionate nature that will make him a sweet treasure in a loving forever family. He's a cloud-soft snuggler who loves to have his back scratched and his fluffy tummy rubbed! And spending time with you is his favorite pastime. His darling siblings are his happy, lively playmates, full of curiosity and always ready to romp and explore. And he has also gotten along well with a Doberman, a German Shepard, a Papillon, and adult cats! This adorable lovebug couldn't be sweeter or more mellow or more beautiful, and is ready to be someone's adored little dreamboat. Simon says he hopes you choose him!
Please note:
Simon is shown as a Siamese Mix based solely on his appearance. We rarely take in purebred animals, so virtually all of them are a mix of several breeds. Do not make an adoption decision based only on our breed designation, especially if you are concerned about allergies.