Hugo is not ready for adoption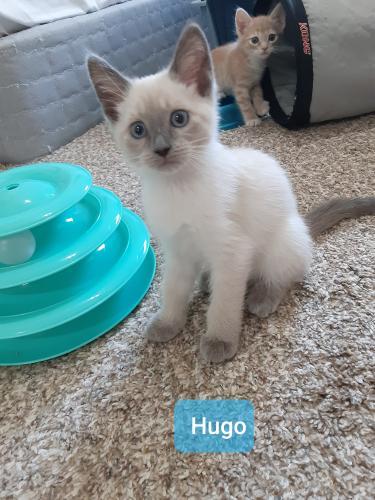 Hello Hugo! Could you be more adorable? Nope - he's simply as adorable as it gets! He's a fuzzy wuzzy fluffball with the tenderest heart who will appreciate a sweet family with the knowledge and understanding to be patient with his tendency to be timid when he's unsure. He's a joy to watch romping and hippity hopping with his siblings and gets caught up in any happy playtime or kitten adventure. His gorgeous coat is as soft as a cloud with beautiful highlights on his silky ears, satin nose, and velvety feet, and deep jewel-like blue eyes that will melt your heart. His foster mom says "He will be the best cat", which is a pretty great endorsement from someone who would know! Could this adorable sweetheart named Hugo be the precious treasure your loving home has been hoping for?
Please note:
Hugo is shown as a Siamese Mix based solely on his appearance. We rarely take in purebred animals, so virtually all of them are a mix of several breeds. Do not make an adoption decision based only on our breed designation, especially if you are concerned about allergies.