Kitten 23812 (Sinatra) is available for adoption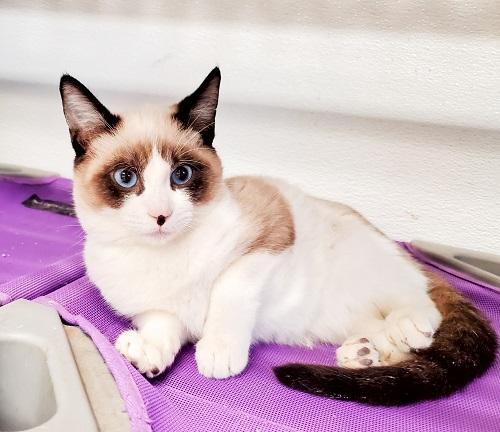 Male
Siamese Mix
5 months old
Sinatra is a sweetheart who loves to play, pounce, purr and explore. He's a beautiful, bouncy boy with a great purr and a wonderful personality. He's just an easy going fellow with a ton of love to give. He is good with the other cats and kittens in our adoption room. He suffered an injury as a kitten, which causes him to walk a little different, but he gets around just fine, he can romp, roll, play and keep up with other cats just fine! ~ and we think this just adds to his special charm. Sinatra is super special, but he is shy to new people and situations. Sinatra has showed us that he loves head and cheek scratches, he prefers to get his pets and affection on the ground all while purring. We are sure Sinatra will show his great, sweet personality when he's adjusted to his new home! He just needs a patient family!
Please note:
Kitten 23812 (Sinatra) is shown as a Siamese Mix based solely on his appearance. We rarely take in purebred animals, so virtually all of them are a mix of several breeds. Do not make an adoption decision based only on our breed designation, especially if you are concerned about allergies.
Kitten 23812 (Sinatra) is a Special Needs cat.