Rhodey is available for adoption in an offsite foster home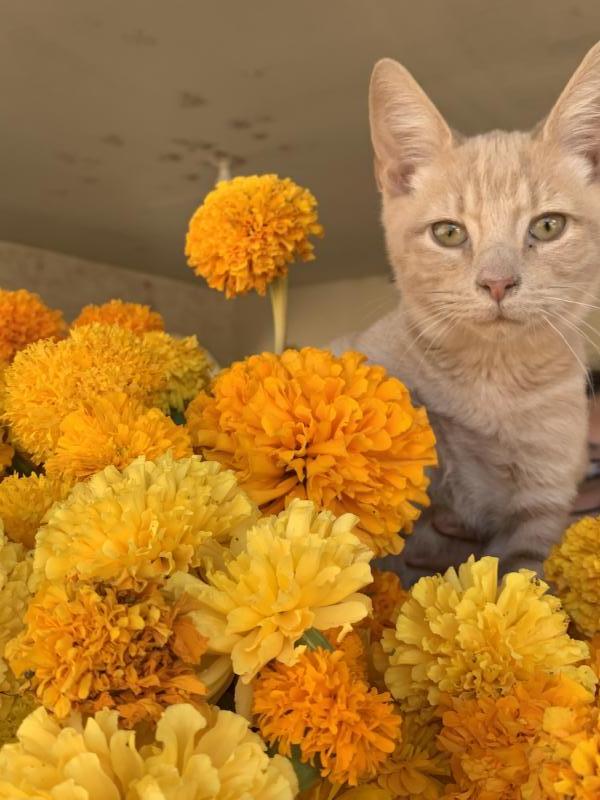 Male
Domestic Short Hair
Orange Orange
6 months old
Rhodey is incredibly playful with other kittens and gets along well with senior and adult cats. He currently lives in a house with a 4 year old child and they get along very well. He is gentle with kids but loves to play with them. He adores WET food and he has the funniest gait when he walks. He is a very quiet cat and doesn't meow excessively. He enjoys sitting on a warm blanket or on a window ledge, he likes to be pet on his head and enjoys being held.
Rhodey was found crouched down and immobile in the middle of a busy business street while cars swerved around him. I pulled over in my car and scooped up this super tiny kitten with eyes crusted shut. I rushed him home to clean up and have a nice meal and secured a same day vet appointment. The doctor confirmed he had an upper respiratory infection but other than that he just needed some TLC!
Since then, Rhodey has grown so much and so well! He is named Rhodey after Marvel's James "Rhodey" Rhodes from the Avengers since he was found in the middle of the road. He is up for adoption because I have 4 adult and senior cats and don't have the capacity to take on a 5th cat. However, he is an amazing cat and would make a great member of your family!
Rhodey is the definition of an adaptable, easy going cat! He has been around other cats, including kittens and adults. He gets along well with both, and is very playful with other kittens. However, when he is alone he is able to be content and entertain himself and snuggle up in your lap for affection. He truly would thrive in any indoor environment. His favorite this is a warm blanket or a window to look out of. Rhodey has been around an energetic four year old and has gotten along well with this toddler, so kids are fine
Rhodey tested negative for feline FIV so he can be around other cats. Since he was found in the street he did have to overcome upper respiratory infection and worms, but both have since cleared up!
Rhodey is currently living in Madera, CA 93636