Mattie is available for adoption in an offsite foster home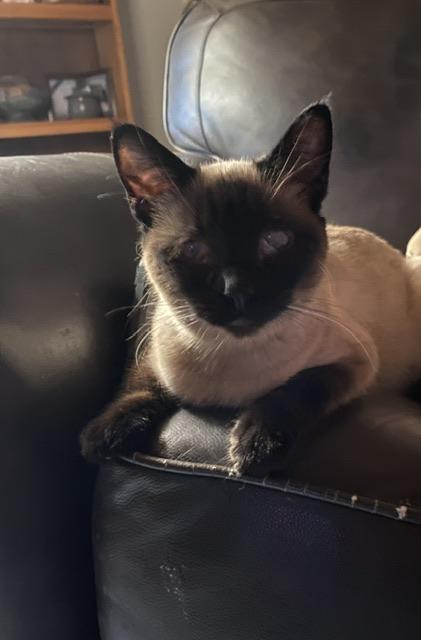 Female
Siamese Mix
Seal pt
1 year old
Mattie is a very sweet and beautiful girl, she started life in a hoarding situation with a double eye infection that ruined her beautiful eyes. She has limited vision but can still get around great, she loves to play with her toys and chase the mouse and dixie cups. She can climb the cat trees, get on the couch and pretty much do everything a normal cat can do. She gets along great with other cats and dogs and does require another cat as an companion, she would get very lonely without another cats friend, she was raised with lots of other cats & dogs in her household and feels best in a house with other loving cats. Mattie is a talker and will call you when she is looking for you or talk to her toys.
Mattie was very sick when she first came to us and needed several weeks of medial care, during this time she would only eat Friskies Pate non fish, now that she is recovered she will still only eat Fiskies Pate non Fish and needs to be fed three times a day. Her foster mom feeds her morning, dinner and second dinner before she goes to bed. She will not eat dry food. She also drinks a lot of water, we suspect there was a shortage of fresh water where she was living. We have done blood work recently and it all looks great now and we are hoping that she has a long life ahead of her. If she has additional medical needs and you are local we are happy to get her into our vet at our cost.
Please note:
Mattie is shown as a Siamese Mix based solely on her appearance. We rarely take in purebred animals, so virtually all of them are a mix of several breeds. Do not make an adoption decision based only on our breed designation, especially if you are concerned about allergies.
Mattie is a Special Needs cat.