Kimi is available for adoption in an offsite foster home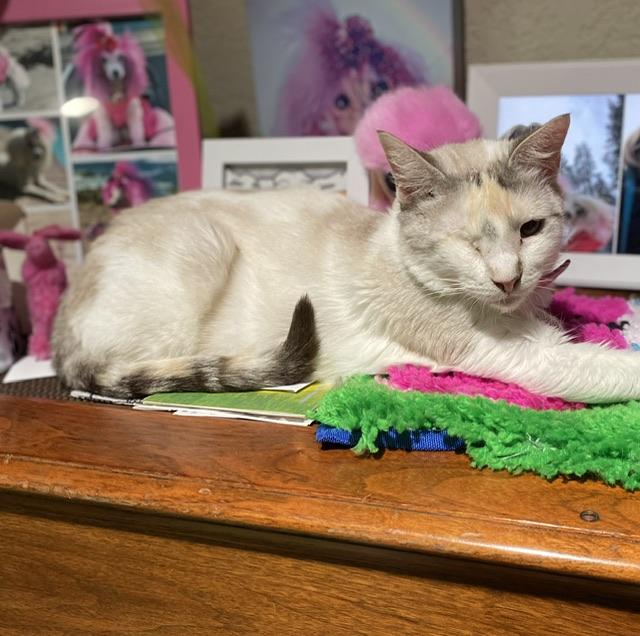 Female
Siamese Mix
Torti point
6 years old
Cute and cuddly Kimi is a special girl looking for a special home. She is very sweet and loved to be petted and brushed, and she gets along well with other cats and the well-behaved dogs in her foster home. She was rescued from a hoarding situation and has lost one of her eyes and all of her teeth. Kimi is also diabetic, she takes daily insulin shots, which she doesnt mind at all. We will provide the insulin, needles and any testing supplies that are needed for this sweet girl. She is really a treasure and deserves a home of her own. The vet does not expect her to have any long-term medical issues and if additional vet care is needed, the Cat House on the Kings will cover the costs of having our vet take care of it if needed. (Out of town adopters would have to bring her back if you want this care.) She is an independent girl who is so sweet and wants nothing more than to sit in your lap. (Note: cats without teeth prefer wet/canned food, but can also manage smaller pieces of kibble.)
Kimi is listed as Special Needs because of her missing eye and teeth and is diabetic. The Cat House is prepared to provide future vet care (locally, from our vet) if anything serious develops with Kimi. We offer this because we don't want concerns about costs of care to keep her from finding a wonderful home!
Please note:
Kimi is shown as a Siamese Mix based solely on her appearance. We rarely take in purebred animals, so virtually all of them are a mix of several breeds. Do not make an adoption decision based only on our breed designation, especially if you are concerned about allergies.
Kimi is a Special Needs cat.