Mia is available for adoption in an offsite foster home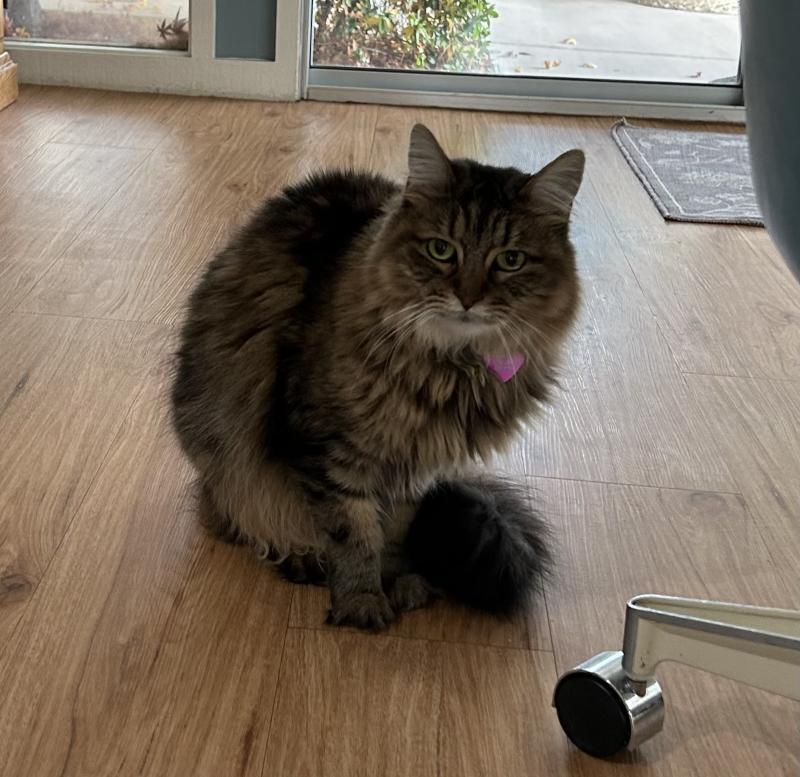 Female
Maine Coon
Multicolored
9 years old
Mia is not in the care of The Cat House on the Kings and we cannot vouch for her personality or health status. Please call (559) 917-7324 with questions; do not contact The Cat House on the Kings about Mia!
Mia is a sweet 9 year old Maine Coon. She is timid but warms up with soft petting. She loves to sleep on the couch and look out the window at the birds. She is mellow and a great lap cat. Her beautiful green eyes will mesmerize you.
Mia is my moms cat. She has had her for 9 years. My mom has dementia and can no longer care for her. Mia was found as a kitten with her brother Milo and they both live together. Milo is alpha and intimidates Mia thus leading to her timidness. She will thrive in a household with no other pets or children. She will sit with and cuddle with her person. She misses the one on one contact with my mom. Please consider adding this sweet girl to your family.
Mia needs a home with no other pets and no children. She's an ideal companion for a retiree.
Mia is healthy, up to date on all vaccines and is ready for you to take her home!
Mia is currently living in Fresno, CA 93720
Please note:
Mia is shown as a Maine Coon based solely on her appearance. We rarely take in purebred animals, so virtually all of them are a mix of several breeds. Do not make an adoption decision based only on our breed designation, especially if you are concerned about allergies.
Mia is not a The Cat House on the Kings cat, so do not contact us about her. We cannot vouch for her personality or health status. For more information, or to meet Mia, please fill out an application form and her caregiver will contact you in 24-48 hours.