Angel Girl is available for adoption at our Blackstone Ave Petco Adoption Center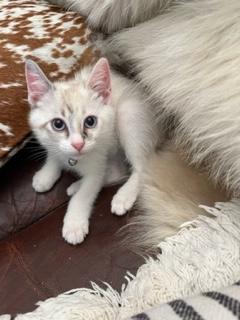 Female
Siamese Mix
Tortie pt
6 months old
Unique beauty describes little Miss Angel Girl to a tee, with her special markings on her ear tips, dark tail tip and tan spot on her back. She is a rare little kitty full of love, sass and happiness ready to share with her forever family.
When Angel girl is not running around with her sisters playing with her favorite toy ball, she likes to cuddle up on her cat tree as high as possible for a nappy with her siblings or her foster brothers and sisters.
Angel sleeps and cuddles with her foster mom all night long. Her striking blue eyes are filled with love and are always begging for cuddles in the morning, as she will sleep right next to you and be there looking for you to wake up and snuggle.
She has been exposed to two small older dogs, and adult cats at her foster home. She has been exposed to children, however she is not a fan of a lot of noise so she did not have much interest in them. Angel Girl and her sisters also love their fresh water fountain at their foster home, and their Liter Robot.
Need a Angel in your life to make you smile every day? This is your little white sweet girl ready to love you forever!
She would love one of her sisters, or her adopted sister to join her if you have the room.
Please note:
Angel Girl is shown as a Siamese Mix based solely on her appearance. We rarely take in purebred animals, so virtually all of them are a mix of several breeds. Do not make an adoption decision based only on our breed designation, especially if you are concerned about allergies.
Angel Girl is shy and needs a quiet home. (The San Diego Humane Society offers a Shy Cat training class over Zoom.)