Barney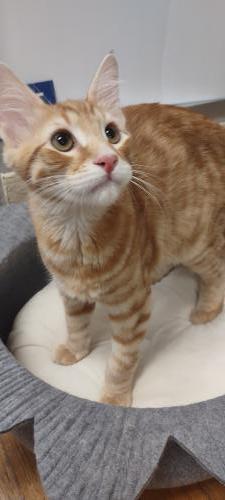 The Flintstone's Barney was Fred's best friend, and always listened to Fred, well that is this little Barney kitten.
Have you ever talked to a cat or kitten, and thought they knew exactly what you were saying to them?
They maybe looked at you with understanding eyes, or meowed back in response?
Well that is this little guy Barney!
When his foster mom talks to him he listens like it is the best story he ever heard, and he is not just a good listener he loves to cuddle too, he is the perfect guy. His fluffy orange coast makes him a heart breaker too.
Barney loves running around, jumping and wrestling with his siblings but also appreciates a good snuggle with his favorite humans.
This little one is the perfect companion to share your life and stories with! If you have room for two one of his siblings is perfect but he said they can only come if they have to have good stories to listen too.
Please note:
Barney is ok with dogs and small children