Nebula is available for adoption in an offsite foster home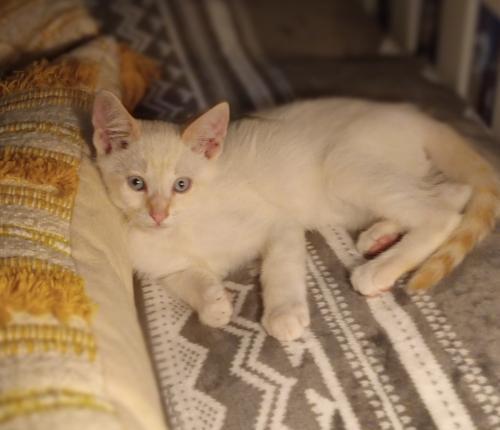 Male
Siamese Mix
Flame pt
12 weeks old
Nebula is a region in space where new stars form, and this sweet boys name is fitting because he is a star!
Playful little Nebula is outgoing, fun loving, friendly, and funny to boot. He is a handsome boy with baby blue stunning eyes that will melt your heart. He is not basic either because he has orange tips on his little precious ears and the tip of his tail, which he loves to chase in his spare time. When Nebula is not being cuddled he is looking for fun kitten adventures, and ready to rumble around with his brother or chase his toys for hours. This little guy is full of spunk, and energy that will keep you laughing with his funny sense of humor.
He has been exposed to other kittens and adult cats, but no dogs or children as of yet.
Nebula is a SUPER STAR that is looking for his forever home, that will let him shine and admire him as the star he is!
Please note:
Nebula is shown as a Siamese Mix based solely on his appearance. We rarely take in purebred animals, so virtually all of them are a mix of several breeds. Do not make an adoption decision based only on our breed designation, especially if you are concerned about allergies.