Sheba has been adopted!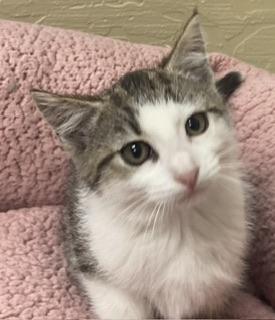 Adorable little Sheba is a playful girl with the sweetest disposition, and absolutely stunning with her soft fuzzy wuzzy grey and white coat. She loves to gallop around with her siblings, but when play time is done she will cuddle up on your lap for a nice nappy nap. Though she is a little shy at first, she is a kitty with a heart off gold. Sheba is friendly to everyone she meets with time, and will become your best furry friend. Sheba is ready to come into your home and melt your heart, are you ready for a sweet new companion like Sheba?
Sheba has not been exposed to dogs or kids, however she has been around other cats.