Captain Jack has been adopted!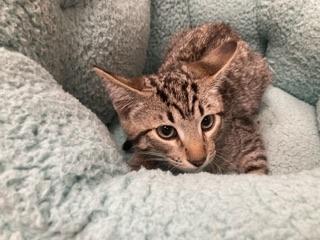 Captain Jack is a small, and shy little guy looking for his forever home.
Though his name is strong and demanding he is not and is a little shy at first, but once he knows you are his human he is very loving. He loves quiet and a calm environment, so he would most likely do best in a home that is quite and no small children as he gets scared a little easier then his littermates. He would love one of his brothers or sisters to join him to help him with the transition to his new home, but he also will do ok on his own with a patient family.
He has been around other cats and senior dogs, however not around children or large crowds.
If you are wanting a little one to just cuddle with you after he sees you are there to spoil him rotten....Captain Jack is the little fellow you are looking for.