Ana Maria has been adopted!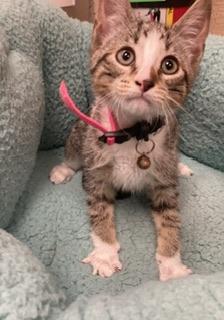 Little Ana Marie has the such striking unique markings that make her stand out as a beautiful little girl. She loves to be adventurous and is also very loving. Her favorite pass time is exploring her surroundings, and romping around with her littermates. Ana Marie has been around small senior dogs while with her foster family, and other cats and does great, however she has not been around children as of yet.
If you are looking for a little cuddle bug that will bring a smile to your face everyday Ana Marie is the perfect girl for you and your family.