Turner has been adopted!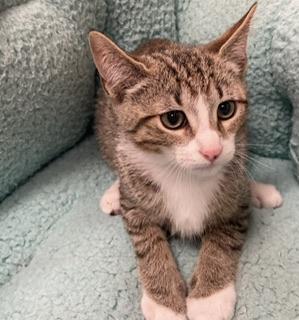 With a sweet white nuzzle, and a pink nose, and little white socks Turner is a handsome buy that may be shy at first but is full of love!
He loves to play at his own speed, and though might take him sometime to get comfortable once he is he is a sweet boy. He is learning that human affection makes him purr, and is liking it more and more slowly but surely. Turner will need to go to a home that has patience, and someone that has a open heart to help him learn that humans are trusted family members. When not napping he is playing with his littermates, and chasing his favorite toy.
Turner has been around his littermates and other cats, as well as small senior dogs thought not around children. This little guy just wants to be loved by a forever family that has the patience, and love to help him feel love and snuggles.
He does have littermates that he cuddles with and could help with his transition if you have room for two in your heart. Sometimes having a friend helps!