Jamie is available for adoption in an offsite foster home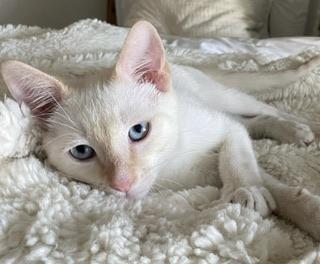 Male
Siamese Mix
Flame point
5 months old
Meet this sweet little flame point Siamese Mix that is not just a handsome guy he is a go getter but is a confident little people kitten! When you talk about a kitten that knows how to work a room it is Jaime!
Jaime is not afraid to rub up on any human he comes into contact with. He will express his desire to be shown all the affection, so he can purr his till his heart is content. When he is not thinking about how he can wiggle into his humans hearts.... he is busy playing with his favorite toy which is a feather stick which makes him absolutely his happiest. Jamie's striking appearance match his bright, and inquisitive nature.
He is good with kids, dogs and adult cats... and would love one of his litter mates to join him if you have the room in your home and heart.
Jamie is ready to take on the world, and all the people in it... he is a the life of the party!
Please note:
Jamie is shown as a Siamese Mix based solely on his appearance. We rarely take in purebred animals, so virtually all of them are a mix of several breeds. Do not make an adoption decision based only on our breed designation, especially if you are concerned about allergies.
Jamie is ok with dogs and small children