Murphy's adoption is in progress!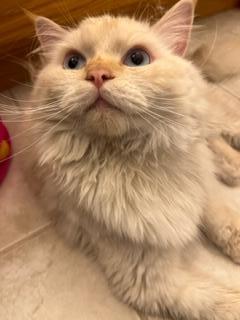 Just look at this sweet, lovable, and cuddly big guy Murphy, a Ragdoll mix long haired show stopper. Murphy loves to cuddle and purrs like a motor that runs perfectly. He loves to play with his toys, but he also knows he is long haired beauty so his favorite time is brush time and getting groomed by his foster mom.
Murphy is perfect if your looking for a lazy relaxed cat that will play when he must, but really just loves laying on your lap or sitting in the sunshine through the window. He is going to be a big boy no doubt. His gorgeous cream coat with flame point, and bright blue eyes will melt your heart the minute you see him.
Murphy has been exposed to adult cats and kittens and did great, as well as small senior dogs in his foster home. He has not been around kids, but with his calm personality he could easily learn to love them.
This stunning guy is looking for his forever home that will love his big handsome self, is Murphy your purfect new family member?
Please note:
Murphy is shown as a Ragdoll Mix based solely on his appearance. We rarely take in purebred animals, so virtually all of them are a mix of several breeds. Do not make an adoption decision based only on our breed designation, especially if you are concerned about allergies.
Murphy is ok with dogs